On campus media alleged repression, the Leyte Normal University (LNU) claimed, "Requiring An Lantawan to undergo accreditation is not an attempt to curtail the freedom of speech or of the press. The process is in accordance with established policies so that organizations within the University adhere to ethical and professional standards, and to ensure that they contribute positively to the overall experience of students," said LNU in its advisory posted on their official Facebook page, yesterday, October 25, 2023.
The LNU administration, through its Office of the Vice President for Student Development, released an advisory for clarification on An Lantawan (AL) confirmed to have been "denied recognition" unless it had complied with accreditation requirements. AL is the official tertiary student publication of the LNU.
It said that to guarantee openness and understanding, it was critical that they had to make clear where they stood on the campus media issue.
"We believe it is imperative to clarify our stand on this matter to ensure transparency and understanding," the LNU administration began its statement. As "a state-funded educational institution that operates under the principle of academic freedom," it said and furthered to say that free speech and journalistic freedom are upheld on an equal footing.
"a first in its history"
The LNU administration stresses its duty to set specific rules and norms to guarantee "the quality and integrity of our academic and extracurricular programs," the advisory wrote. Hence, the administration lays out an accreditation process for all student organizations, including campus media like AL.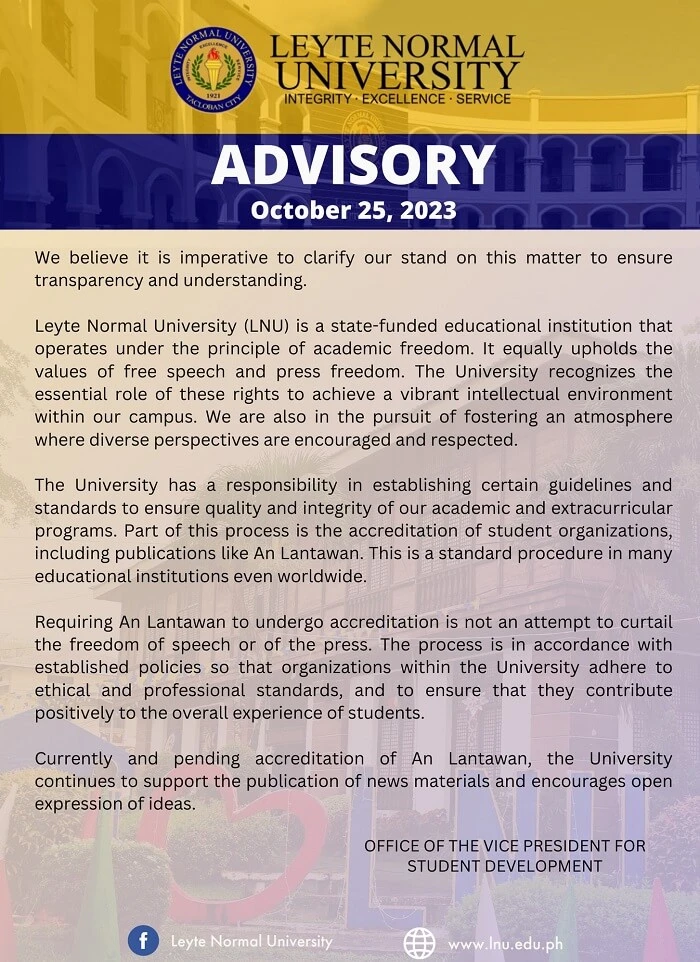 "This is a standard procedure in many educational institutions even worldwide," claimed LNU and said that they would continue to back the dissemination of news materials and empower open expression of thoughts "pending accreditation of An Lantawan."
However, AL Alumni said in its solidarity statement that requiring AL to comply with the accreditation process was "a first in its history."
Furthermore, the accreditation process that LNU administration imposed to AL "contradicts" the University's Student Manual.
AL Alumni said in its solidarity statement,
Based on the University's Student Manual, available on its official website, publications are separate from Student Governance and Organization. It states, 'The school publication should operate within the framework of the working policies of An Lantawan. Accreditation, on the other hand, is a requirement only for student organizations, allowing them to obtain a Certificate of Registration as a prerequisite for their operation.' Requiring student publications to be accredited contradicts this policy. (Emphases added are mine.)

Solidarity Statement from the Lantawan Alumni
Meanwhile, the College Editors Guild of the Philippines (CEGP) in its statement of unity posted on its Facebook page on October 24, 2023, argued that AL is an "independent institution of press freedom," hence, CEGP said, "No force nor policy shall hinder them from exercising this critical democratic duty to the Filipino youth."
Moreover, the CEGP called upon the LNU administration to communicate with AL, open and honest. It also asserted that AL "must maintain full editorial independence and fiscal autonomy."
As the broadest student publication alliance in the Asia-Pacific region, CEGP urged the Commission on Higher Education to look into what it said, "this brazen violation against campus press freedom," and it also said, "No interest other than that of the students and the LNU community must be protected at all costs." ▲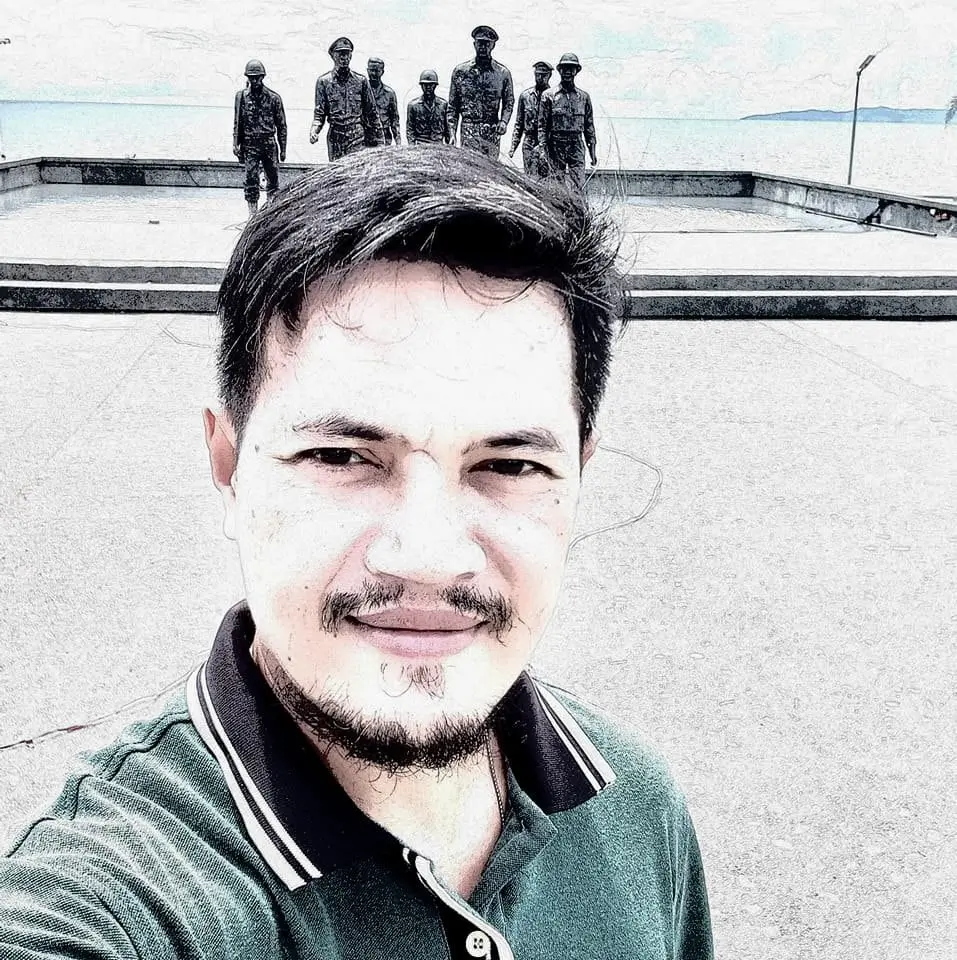 Regel Javines, at present, is working on his M.A. in Philosophy at the University of San Carlos attempting to understand life and existence through the lens of gnostic spirituality and ontological mathematics. He has been writing since 2011 publishing news, commentary, and opinion about politics, law, and various pressing social issues of interest. More >>