ROTC cures mental health problems, said Galvez.
Mandatory ROTC cures mental health problems—a claim that only leaders, somehow, know the very extent of the "essential being" of that claim that Defense Sec. Galvez, Jr. is so damn right after all.
Defense Sec. Carlito Galvez, Jr. said at the Senate hearing on the bill seeking to make Reserve Officers' Training Corps (ROTC) mandatory on Feb. 6, 2023, that ROTC cures mental health problems.
Let's start first thinking about what supposedly Galvez is attempting us to have known about it much better.
(READ: Gov't decisive COVID-19 vax drive: Think about it, Part 1)
VERA Files transcribing the statements of Galvez right from the Senate of the Philippines video posted on YouTube says:
"Nakikita ko po 'yung ROTC program, the military training program, experiential po ang training niya; 'yun ang pagkakaiba po ng tinatawag natin sa NSTP (National Service Training Program). Ang experience training is talaga pong naisasapuso niya po ang lahat ng ginagawa niya; 'yung survival instinct nandoon. So 'yung sinasabi natin 'yung mental problem, it can be cured, kasi 'yung frustration tolerance ng isang tao, tataas."

(I can see that in the ROTC program, the military training program, the training is experiential; that's how it differs from what we call NSTP. In experience training, everything one does is really taken to heart; the survival instinct is there. So, what we consider as mental problems, can be cured, because the frustration tolerance of a person increases.)

VERA Files, 2023
Toughness and Resilience
Galvez explained that the military experience students could gain from the ROTC program would somehow help them as a coping mechanism for mental health problems. When Galvez said that ROTC cures mental health problems, his statement or implication, at least, has a lot to say that the public and the Marites have not even a bit of inkling about it.
There is one good reason Galvez would like to point out. Somewhere and somehow, when it comes to national security that is built on citizens' obligation and role in defending the country in times of future aggression, emotional and mental toughness would be the major battle gear to come into play.
But, do we really expect future aggression the reason why the country must make ROTC mandatory?
Yes. Whether we like it or otherwise, in times of war, nobody, nor leaders of the Republic could save us from emotional and mental struggles. In times of war, we are on our own in terms of emotional and mental strength. How we mindfully confront the ongoing challenges and uncertainty in times of war or even at times of natural calamities depends on how far we have been in training and exposure to such challenges. These skills can be learned organized and systematic through a military training or program.
However, these skills can also be learned even without the ROTC program. But, do most of us have any idea on how and where these skills can be learned and acquired from?
No. Then, one way for the country to make use of its citizen's full potential is to invest in its citizens hoping for a sense of nationalism to be instilled in the process while making them prepared, trained, and programmed to learn survival skills that are too significant in the demands of time. And to make sure that everyone has even a hint of a considerable grasp of it, the state must resort to making ROTC mandatory. Just like how the state makes basic education accessible to all. And just like how the state makes the coronavirus disease (COVID-19) vaccines accessible and available to all though it even made it mandatory, especially when it comes to travel.
Indeed, ROTC cures mental health problems in one way or another. Medical experts could not even suffice their claims by just mounting at their data claiming so and so. Because the impact of the training is something that falls within the case-by-case approach; something that is not everyone's cup of tea. Yet, something that everyone is obliged to drink the cup of tea when the state calls upon it to make it mandatory.
Whether ROTC becomes mandatory, the fate of the country in times of war depends on the capability building and preparedness of its armed forces along with its core of tactical operations.
Then, why make ROTC mandatory?
The world is going to step into the most unfamiliar state of the evolution of change that gives the most uncomfortable impact ever the world felt throughout history. The COVID-19 pandemic, as I viewed it as the "first outburst" for the incoming full-swing implementation of the then United Nations Agenda 21 now the Sustainability Development Goals (SDGs) 2030, prompted the world to ably see control as the momentum of force for containment. Here and there, humanity encountered the unprintable face of fear to imagine it. And gaining much control over the citizens of the state is one giant step toward winning, which is consistent with the essential impact of the operational manual to hit SDGs 2030 targets.
Besides convincing that ROTC cures mental health problems, leaders know what we really don't know about something to where we are heading. We are nearing a time of gaining less freedom out of comfort, more state control, and less humane beings in this dawning new world order.
War of aggression has become the world's daily conversation. As 2030 is approaching, the world expects more uncomfortable and even mind-blowing impacts most especially on basic human rights, freedom, and privacy. Technology would become the new public policy; artificial intelligence would be worshipped as a god; freedom would become the new national threat posing an utmost danger to the global central government; privacy would become history.
All these things are collateral damage toward eradicating 100% global poverty euphemisms under the not-so-nice slogan, "Leave no one behind."
When Galvez claims that ROTC cures mental health problems, he is apparently speaking of the personal benefits soon to be reaped at times of war that Filipinos will come to the battle at least with a bit of know-how. ▲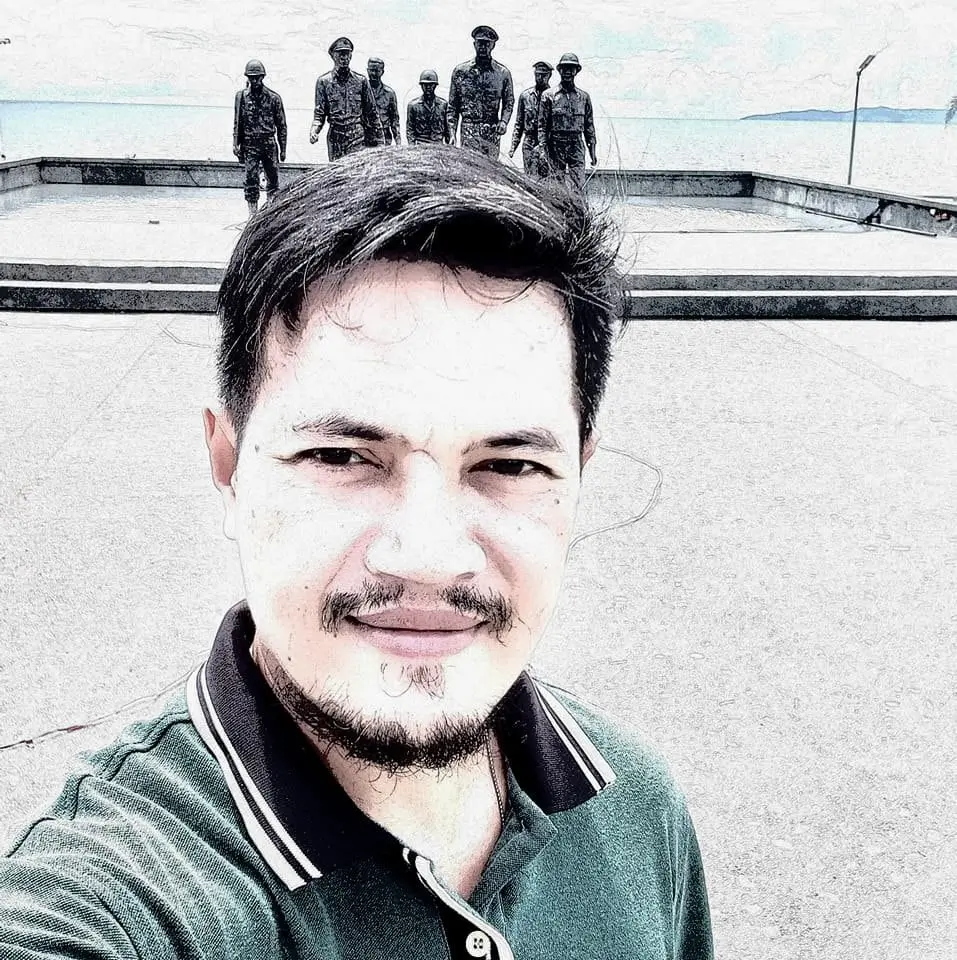 Regel Javines, at present, is working on his M.A. in Philosophy at the University of San Carlos attempting to understand life and existence through the lens of gnostic spirituality and ontological mathematics. He has been writing since 2011 publishing news, commentary, and opinion about politics, law, and various pressing social issues of interest. More >>