Dear PH Government, DOLE,
Requiring swab tests regularly for unvaccinated workers is a stark foolishness—like total ignorance misplaced somewhere else in limbo void of sound reasons.
Since the COVID-19 health protocols and restrictions were implemented in our decisiveness or fear to be on the losing end in the global fight against the coronavirus, these protocols have exacerbated the plight of Filipino workers, let alone in our country.
While other countries did not make wearing face shields mandatory, you did. Yet, these countries have managed to control the coronavirus pandemic without it.
While Pharmally reportedly earned billions amid this COVID-19 pandemic, millions of your people could hardly eat a full meal every day while this nagging pandemic remained a threat to us—low-income and unemployed. And what have you done to at least compensate us even a little way less than you think we deserve?
The French Health Ministry, in October 2020, asserted that face shields could not protect the wearer and the people around.
In a Senate press release on Aug. 13, 2020, Sen. Imee Marcos called on you to reconsider the mandatory wearing of face shields. Sen. Marcos described it as overkill.
As the "no work, no pay" rule for the unvaccinated on-site workers just took effect yesterday, Dec. 1, 2021, not only would you put the worsening plight of workers in a bit of overkill but also contravene the rights of the workers under the law by requiring swab tests regularly—a choice that shall be a matter of unrestrained personal decision.
While your policy sets no mandatory vaccination for on-site workers, you make requiring swab tests regularly leaving workers who refused to get vaccinated in a quandary. And it adds a burden to workers as the expenses of the regular RT-PCR tests will be on their own. What a trick.
My goodness Philippine government and especially the Department of Labor and Employment (DOLE), this is foolishness in every sense of the word!
The DOLE shall be reminded of its mandated role to protect Filipino workers from any form of discrimination. Leaving the workers in an option too cumbersome to meet is having no choice at all for them.
If this form of workplace discrimination leaves workers having no choice but to submit themselves to a government protocol that is not so reasonable enough based on what is right in the perspective of individual autonomy, again, in every sense of the word, then this government is no longer protecting its people. This government is invoking a covert arbitrary rule that clearly endangers the true welfare of the people and the institutions of freedoms and basic human rights.
Isn't it absurd that while COVID-19 vaccines do not protect everyone else from contracting the virus and viral shedding, you are so dead serious about requiring swab tests for the unvaccinated? What are you really protecting?
Have you not even taken into consideration what might happen to the workers requiring swab tests regularly if that requisite could pose long-term health issues?
Isn't it absurd to notice why you would attempt to control even how people would live their lives according to their individual beliefs as what they think is best for their lives?
Are you like those all-knowing gods and goddesses in the sky so sure to prescribe or even assert that requiring swab tests for the unvaccinated is the only way to protect everyone else from the virus? Or requiring vaccinations for your people is the only way to protect them from severe COVID-19 infections?
You are no gods at all not even less. You err; not even once but will err again and again and counting. Look back and contemplate. Never assume that your science-based solutions are not fallible. You are not even the Catholic Pope, whose doctrine claims his infallibility that odd.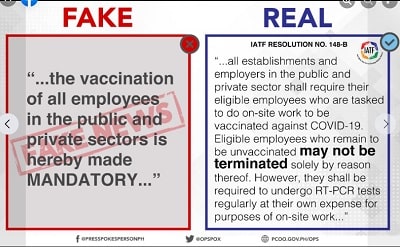 Isn't it absurd how you seemingly played around by attempting to circumvent the word "mandatory" but leaving the workers having no choice at all as the option left is an added burden to them?
You are not even joking. You seemed so serious to fool us—we, the people, who enabled you to enjoy the luxury of life and feed your family and your stomach always full while the rest of us are left often empty-stomach for 24 hours and counting.
Stop this foolishness!
If you'd really protect us, you would have been working between the neutral ground of protecting your people while upholding your people's rights and freedoms. To step even an inch beyond that line would be no longer protecting us that should have prevailed, but we're afraid it was a vested interest we kept on seeing day after day. It's debilitating. ▲
Philippine Pundit is a borderless citizen journalism platform. It is owned and managed by Regel Javines. Join us and help the world be better informed with factual news and no-holds-barred commentaries about politics, law, and various social issues of interest. Submit your article today and get it published!