Bhing-Bhing Panagsagan Ko, who garnered a rating of 84.50% from the University of Santo Tomas (UST), tops the 2023 Licensure Exam for Architects held on January 25th and 27th in various testing centers in the country.
Out of 3,473 examinees, only 1,980 or over 50% of the examinees passed the 2023 Licensure Exam for Architects given by the Board of Architecture headed by Chairman Arch. Robert S. Sac with members, Arch. Robert M. Mirafuente and Arch. Corazon V. Fabia-Tandoc.
Meanwhile, the Professional Regulation Commission (PRC) said through its social media platform that registration for the issuance of Professional Identification Card (ID) and Certificate of Registration will be done on-line starting on March 23 and 24 and from March 27 to 31, 2023.
The following are the top 10 passers of the 2023 licensure exam for architects released by the PRC earlier today, February 1, 2023.
| Rank | Name | School | Rating |
| --- | --- | --- | --- |
| 1 | Bhing-Bhing Panagsagan Ko | University of Santo Tomas | 84.50% |
| 2 | Shanna Mae Brecia Goyena | Bicol University-Legazpi | 83.80% |
| 3 | Aliana Jasmine Alcantara Cadiang | University of Santo Tomas | 83.30% |
| 4 | Mariel Mei Yson Rias | University of the Philippines-Diliman | 83.10% |
| 5 | Angel Phebles Lopina Altejar | University of San Carlos | 82.80% |
| 6 | Emmanuel Dusaran Inocencio | University of the Philippines-Diliman | 82.40% |
| 7 | Dawnelli Mahomoc Luar | University of the Philippines-Mindanao | 82.30% |
| 8 | Marie Raphaelle Salvacion Lopez | University of the Philippines-Diliman | 82.20% |
| 9 | Ray Matthew Lopez Paguio | University of Perpetual Help System Dalta-Molino Campus | 81.80% |
| 10 | Jose Roger Melgar Barata Jr. | Polytechnic University of the Philippines-Main-Sta. Mesa | 81.70% |
Top 10 of the 2023 Licensure Exam for Architects
The complete list of passers for the 2023 Licensure Exam for Architects:
1 ABAD, JOHN MICHAEL LAZAGA
2 ABAD, JOHN MICHAEL RAMO
3 ABAD, MA. KAREN MENDOZA
4 ABADIA, JUAN ANTONIO MIGUEL JARDIOLIN
5 ABADILLA, JOHNFREY CLINT FRONDA
6 ABANILLA, AILYN ANSELMO
7 ABANTE, RALPH KENNETH ELIZAGA
8 ABARETA, MARIVIC GOMEZ
9 ABASOLO, OSCAR RYAN DUGAYO
10 ABAÑO, INA MAY MANAHAN
11 ABBIS, REBECCA DIVINA
12 ABDULCALIM, AMEER HAMZA GAMPONG
13 ABDULCARIM, JAMELODEN BARODI
14 ABELLA, DINEBROSE PAHATI
15 ABELLA, EMIL FER PASCUAL
16 ABELLA, KIA ABANADOR
17 ABELLAR, REGGIE ANNE DEOCADEZ
18 ABIAS, LORENCE ANN MONTAÑEZ
19 ABIBICO, AUSTIN GUISALA
20 ABO, VICTORIA NOREEN MACALALAD
21 ABRAHAM, JUDE SERGENE MAGNAYE
22 ABRASADO, KLINT FERNANDEZ
23 ABRENIO, PRINCE BALU VILLAMOR
24 ABROGAR, JULIE ANNE MARTINEZ
25 ABRUGAR, KRISHNA MAE JAVIER
26 ABUID, CARL JOSEF PADILLA
27 ACERO, KENNETH GONZAGA
28 ACIELO, JOHN DENVER ZAPATA
29 ACOSTA, KATE ZIA JUEGO
30 ACUSA, MARK JOSEPH MARUNDAN
31 ADANTE, PRINCESS NESMARIE AMIN
32 ADAYA, IRENEO JR BOBADILLA
33 ADAYA, VANESSA JOAN PASIA
34 ADDUN, JAYMON AUSTRIA
35 ADDURU, JAMES SAQUING
36 ADEA, ABEGAIL JOY PELEGRINO
37 ADLAWAN, FRETZEL ABAPO
38 ADLAWAN, IAN CHRISTIAN CALUNGSUD
39 ADOC, JAYZA TAFALLA
40 ADOLPHO, RIVA NOREEN DUMDUMA
41 ADONACION, DONOREE LIM
42 ADOR, HAZEL MAE ROMERO
43 ADVINCULA, JOHN CHRISTIAN ABIDO
44 ADVINCULA, VIA OTAYDE
45 AFRICA, JAMES NIKKO DOTE
46 AFUANG, JANA MARTINA DOCTOLERO
47 AGBAYANI, CENON ROLDAN III CUTANDA
48 AGBON, FRANCIS WILLIAM DELA CRUZ
49 AGCOPRA, RODEL NUCAZA
50 AGGABAO, JOHN ALVIN TALIMONGAY
51 AGILLON, NICOLE HERNANDEZ
52 AGOHAYON, JUNEL ALSADA
53 AGOTO, NESLIE JOY TABILI
54 AGSAWAY, DALE ANDREW MACAAMBAC
55 AGUILAR, CAMILLE SHAINNE BAUTISTA
56 AGUILAR, CHARLENE MADAYAG
57 AGUILAR, CHERRY GRACE GALANG
58 AGUINALDO, AARON
59 AGUJA, MISAEL PASTORAL
60 AGUSTIN, CHARIE MAE ARELLANO
61 AGUSTIN, JOHN KING ESQUIERDO
62 AGUSTIN, MA NIKKA PASCUAL
63 AL-SHAMSI, KHALID ALI SAIF LADRAN
64 ALA, NATHANIEL AUGUSTUS FLORA
65 ALABADO, VINCE RIAN FLORES
66 ALABAN, JULIE ANN SULLANO
67 ALAG, CHARMAINE PILLA
68 ALAMIL, DANILO JR VERGARA
69 ALAPANG, GESSELLE FELIPE
70 ALBA, CHESKA MAE GARCIA
71 ALBERTO, CLARIZA SAMPAYAN
72 ALBERTO, HAZEL ROSALES
73 ALCALA, ANGELA FAYE TONGCO
74 ALCANTARA, JAYNIEL PASTOR
75 ALCANTARA, MARDY MORRIS ALBAY
76 ALCANTARA, SEAN KLYDE BENOZA
77 ALCANTARA, ZARAH ARCEO
78 ALCASABAS, JEREMIAH CLAIRE DE GUZMAN
79 ALCID, MONSIEUR PLACIDO BALIDO
80 ALCORIZA, MIKKAEL GARSUTA
81 ALDAVE, MARVIN PEÑAFIEL
82 ALEJO, ANGELBERT TABLIT
83 ALEMANIA, RAYMUND PAUL CAPE
84 ALFEROS, WENDY ESPIRITU
85 ALFONSO, JOSEPHINE OLIVIA LAPITAN
86 ALGUIDANO, CAMILLE YONHELL SANTOS
87 ALIANZA, MARK VINCENT GADO
88 ALICBUSAN, BONN EDWARD ORGANO
89 ALIMPOLO, REX JIMENA
90 ALINCASTRE, JOHN HAROLD FUENTES
91 ALINDAJAO, CHRISTIAN ABENOJA
92 ALMACEN, MARK KEVIN DIVINA
93 ALMACHAR, JOHN GADFREY CANTONJOS
94 ALMANZOR, AARON MATTHEW VALLEJOS
95 ALMARZA, KRISTINE JOY CASIM
96 ALMONTE, CLARICE ANNE CHENG
97 ALON, LAWRENCE BAUTISTA
98 ALONZO, ALMARIO III ARAZA
99 ALSOL, JUSTIN ALESTER BAUTISTA
100 ALSREE, JEFFERSON GUZMAN
101 ALTAR, EDWARD JOSEPH GREGO
102 ALTEJAR, ANGEL PHEBLES LOPINA
103 ALULONG, MOHAMMAD JOHANI DIPATUAN
104 ALVARADO, JASPER NALDO
105 ALVAREZ, DALE ANTHONY ZAMORA
106 ALVAREZ, MIGELL PAOLO PAMINTUAN
107 ALVARO, ALYSSA
108 ALVERIO, YEDDA MARIE SABLADA
109 AMADO, PRISCILLA CASSANDRA SANCHEZ
110 AMADOR, JOHN KARLO GONZALES
111 AMADOR, LIZA MAY VIDALLON
112 AMARADO, ELAINE DIANA BIACO
113 AMARANTE, JUNEVEE LAZAGA
114 AMARANTE, LORENZ CARLOS BAROÑA
115 AMARO, BERNADETTE MENDOZA
116 AMBROSIO, CONRADO ALFONSO GOZE
117 AMOR, SHERWIN AVENIDO
118 AMORA, ELAIZA JANE PANES
119 AMOROSO, PAULO TOOL
120 AMPER, BILL PEÑANUEVA
121 AMURAO, DIANA ROSE MALLARI
122 ANASARIO, MICHELLE ANN SADSAD
123 ANCHETA, IVAN PAUL DE LEON
124 ANDAL, CLINTON AUSTIN LUPIG
125 ANDAL, JOHN MIKHAEL EBREO
126 ANDAL, JONATHAN IVAN RAMOS
127 ANDALLO, VON PAOLO JADE LANA
128 ANDAYA, JANINE ALYSSA ANIZARDO
129 ANDO, RYOSUKE BERNARDO
130 ANDRES, ALEJANDRO JR RAMISCAL
131 ANDRES, PRINCE JADE JOCSON
132 ANG, BRANDON TRAVIS LIM
133 ANGCOS, AUBORN JOHN REMIGIO
134 ANGCOY, PETER ANDRE CAHARIAN
135 ANGEL, KENNETH LUIS CADAWAS
136 ANGELES, GERARD PAUL FIGUEROA
137 ANGELES, RICARDO JR ALAYON
138 ANGIT, ARWIN PATRICK GAWILAN
139 ANGULUAN, JHON PAUL TALAY
140 ANICIETE, RYAN TURALLO
141 ANICO, BERNICE ALCOBA
142 ANINAG, HAROLD MARIO RAGASA
143 ANSAN, JEANNE DELA CRUZ
144 ANTE, JOHN PAULO RAYOS
145 ANTIOQUIA, MARK JEROME PARASO
146 ANTIPUESTO, KENDRID LORENZ MEDINA
147 ANTIQUANDO, DEXTER BENZUELA
148 ANTOLIN, ANDREW PAUL OSAYAN
149 ANTONES, MA. LYLE LYCA ZAMORA
150 ANTONIO, ANA SOPHIA SUYAT
151 AOAY, ELLA MAE DUCUSIN
152 APOSTOL, DAN VIVARLYN AÑONUEVO
153 APUADA, MARSZEILLE NIETZCHELLE HARI
154 APUAN, KEVIN JAY SOLIMAN
155 APUGAN, NIÑA EARL BELTRAN
156 APULI, JOHN PAUL OMBAO
157 AQUINO, DEXTER OBIA
158 AQUINO, KEIN ROYCE CAPULI
159 AQUINO, LAURICE JOY FRANCO
160 AQUINO, PATRICIA MAE TIMBOL
161 AQUINO, PETER CONRAD NATATA
162 AQUINO, VON ALFRED SANTOS
163 ARADO, KHELVIN JOHN MANILA
164 ARAGON, PATRICIA ANN MERCADO
165 ARAGONES, NIÑO GABRIELLE VISMONTE
166 ARANDIA, JONAS IAN AGAS
167 ARCAINA, CYNTHIA BUGUINA
168 ARCE, ANDREA JASMIN DE LEON
169 ARCENA, SHEIKHA GUIA SUELLO
170 ARCHIVAL, NINEVEH BERING
171 ARELLANO, ARNULFO MARTINEZ
172 ARELLANO, AUBREY GAIL CONEJOS
173 ARELLANO, FREDRICK SAM LEBRIA
174 ARELLANO, MIGHTY IRON PARAZO
175 AREVALO, JANELLA TRISSHA ESCOTO
176 ARGUELLES, JONAS SARTE
177 ARICA, CLARISSA MAE SOCO
178 ARIENDA, LOREFEL BUENAFE
179 ARINGAY, JOHN MICHAEL LAYSON
180 ARIZALA, CZARINA FULGENCIO
181 ARMARIO, NORMAN GONZALES
182 ARNALDO, ROMIELLE JOY ENDRINAL
183 ARNANTE, CYRA KAYE PASCUAL
184 ARNIGO, ALJON LAGUERTA
185 ARRIOLA, ANFERNEE KYLE ESTRELLA
186 ARROBANG, LARNEX APRUEBO
187 ARTETA, JASMIN CARIG
188 ASCRATE, ANGELICA BERNADETTE OSIAS
189 ASEQUIA, ZYRAH MAGHARI
190 ASIA, JEIZEL CONE CONSUELO
191 ASINAS, E2 ELIJAH BARROS
192 ASINAS, TRISHA ANTHONETTE UMANDAP
193 ASISTIDO, ABE JONATHAN DE PERALTA
194 ASUNCION, GENE AGNES ARDALES
195 ATACADOR, LHEY ROBIN SANTOS
196 ATIBULA, EARL REDELOSA
197 ATIENZA, AIRISH CHARM ANOG
198 ATIENZA, NOEL LEO CHAVEZ
199 ATIENZA, SHARLEEN MAE GUPO
200 ATIS, SHAIRRA MARIE CEREÑO
201 ATO, ARVIN JAY DE GUZMAN
202 AUGUSTO, LOVELY ANNE ALICAWAY
203 AUNZO, MA. VANESA MALAZARTE
204 AVENDAÑO, MAGDALENE SHY MENDOZA
205 AVENIDO, JAN MARLO ZAPATA
206 AVILA, JANELLA VICTORIA CORPUZ
207 AYOP, JEDRIAN PAUL AGUIMAN
208 AÑONUEVO, CHRISTOPHER BARTE
209 BABE, PEARLY GYN MIRASOL
210 BACALA, RONEL VICTOR ACSIBAR
211 BACANI, JOHN FRANCISCO RIVERA
212 BACILES, RONALD WENDELL CARREON
213 BACOL, MA. SARAH KATRINA AVISO
214 BACOLCOL, DYAN ALYSSA MUSNI
215 BACONG, MA MONICA LAIRA NAKILA
216 BACTOL, CID ANDRE POYALES
217 BADDAO, FERJAY ALBOS
218 BAES, TROY SUROP
219 BAETA, LINO CARLO LERON
220 BAGO, ALVINLU SAPONG
221 BAGON, ERICKA UNTALAN
222 BAGUI, EDELYN LAWIG
223 BAGUNAS, KRISTEL PY RAVELO
224 BAGUNU, KRISHA ANDREA CUE
225 BAJAMUNDI, JEANNE KHAY SERGIO
226 BAJAO, JAHZEEL LEIGH REYES
227 BAJAO, JESHER DALE REYES
228 BAJIT, ALON JOSHUA ROMULO
229 BALANAC, JAFET MARAÑA
230 BALANAG, ANDREI FLORENDO PONCE
231 BALAOING, CATHY JOAN PEL-EY
232 BALDEMOR, MC RON ABRAHAM PANERGO
233 BALDO, REY XAVIER MORAL
234 BALDON, HAZEL HINAMPAS
235 BALDOS, MIKE RYAN AXEL MAGAYONES
236 BALDOVINO, AERON GAMO
237 BALDOVINO, JOSHUA ROBERT CATABAY
238 BALEN, DARWIN FABRA
239 BALETE, EDUARDO JR MARZAN
240 BALICAT, JUSTINE GAYNILO
241 BALIDIO, ROSELYN KATE PASCO
242 BALIN, BEATRICE ISABEL SANTIAGO
243 BALINO, KARREN TRESFUENTES
244 BALISI, IRISH TORRES
245 BALITA, KIMBERLY CAMILLE TUMANENG
246 BALLESTEROS, MICHAEL RYAN BUTIAL
247 BALLONO, VICENTE JR HEREDERO
248 BALTAZAR, RENEE JOYCE MURAO
249 BANAAG, AYESSA LYKA BAES
250 BANDILLA, JOHN CORNELIO MACION
251 BANDOLA, JOHN JOSEPH ARADA
252 BANDOQUILLO, RENZ RABARA
253 BANGASIN, NHOR AIN SABASAN
254 BANGIBANG, SHERRILYN BALABAG
255 BANTING, ZOSIMO RJ III PASCUA
256 BANTUGON, IVAN CLOYD SAWALI
257 BAOBAOEN, FARAH CHARIZ ORDINADO
258 BAQUIRAN, CART BRYAN ZIPAGAN
259 BARAJAN, VANESSA OFALLA
260 BARAOED, JULIUS CEASAR BARROGA
261 BARATA, JOSE ROGER JR MELGAR
262 BARAWID, BRYAN JOHN SAYRITAN
263 BARBER, STEVENS KENNETH SAGNIP
264 BARCELONA, JAZEL MAE GRAFANE
265 BARCELONA, RON JOSHUA VISTA
266 BARIRING, ALEJANDRO CARLO TAYAO
267 BARLAS, MERICH JANE PANIAGUA
268 BARO, JUSTINE MARIE MALIJAN
269 BARRAMEDA, CHRISTIAN ADUCA
270 BARRAQUIA, ANNA KATRINA JUCUTAN
271 BARRIENTOS, KAREN GORDO
272 BARROZO, ADRIAN ULIP
273 BARROZO, PATRICK ANGELES
274 BARTOLO, RONNYL CAPACIO
275 BASA, JOHN VINCENT OCAMPO
276 BASCO, INNOCENZO CUARESMA
277 BASCUÑA, MA. ANGELICA GALANG
278 BASIYA, ROWEL JR GALIMBA
279 BATAO, REMIEL JOSEPH GARNIEL
280 BATAYOLA, ANNIE ROSE REYES
281 BATENGA, ROXANNE PRINCESS RENACIA
282 BATILLER, VERLYN GAIL SICAT
283 BATURI, VALERIE JOY SOMERA
284 BATUTO, LEONA MAE DENIEGA
285 BAUTISTA, EUNICE ERIKA AMUL
286 BAUTISTA, GIDEON TAPAWAN
287 BAUTISTA, ISRAEL SERVA
288 BAUTISTA, JARON ARVIN SANTOS
289 BAUTISTA, JAYVEE JOSHUA BAJADO
290 BAUTISTA, JHON MICHAEL SARMIENTO
291 BAUTISTA, JOSHUA ADOR DIONISIO
292 BAUTISTA, KAYENNA ESCUYOS
293 BAUTISTA, NERLIN ALCANTARA
294 BAUTISTA, PAULINE MAE
295 BAUTISTA, YAHNIE ISABEL NIETO
296 BAUYON, CHARLES WILL TEODOSIO
297 BAWALAN, JOLEENE SHEINE ACUÑA
298 BAYANI, FAYE INDIONGCO
299 BAYBAY, JONA NICOLE GAWARAN
300 BAYONETA, DALE ADRIX DIMZON
301 BAYONGASAN, KURT LEWIS YAP-EO
302 BAYOS, NOELYN DE LA PEÑA
303 BAYRANTE, GESSA MAE UVERO
304 BAYUTAS, LYZLE BOYORE
305 BECHAYDA, FRITZ ROBERT DEMERIN
306 BECHAYDA, LIEZA ABAC
307 BEJAR, JOHN PAUL DELA CRUZ
308 BELANDRES, EMILY ROSE JADOL
309 BELARMINO, JANRY BANDOLA
310 BELON, ALVIN MENDIGORIA
311 BELTRAN, PATRICIA BAUTISTA
312 BELZA, MC. CARLLY DE PANO
313 BENCITO, DHEN ARRIANE DIMAPILES
314 BENEDICTO, JEVAH JAYME
315 BENEDICTOS, GABRIELLE LOIS MACLANG
316 BENTOR, RUSSEL JAY ZAFE
317 BERENGUEL, ARTCHIE LYN ANGUE
318 BERGADO, JAMIE LYNNE TORIANO
319 BERMEJO, ALVIRIE CLAIRE ARIÑO
320 BERMUDEZ, KENT NABEN SELORIO
321 BERMUDO, JINGKY CAYETANO
322 BERNAL, LIBERTY SABANAL
323 BERNAL, RALPH LAURENCE OFAMEN
324 BIASURA, LEONARDO JR BATALLA
325 BIEN, JOHN BENEDICT CONDINO
326 BISARES, MAE FRANCES ACHACOSO
327 BITON, JUDICENT
328 BLANCO, MARY CLAUDINE GONZAL
329 BOBIS, JOSE JR ROCUYAN
330 BOCOBO, PAULA ERIKA SALCEDO
331 BOLASOC, PATRICK VENTANILLA
332 BONGHANOY, ANDREA ANN MEDIANO
333 BONGHANOY, JOHN PAUL LAURENCE CORONADO
334 BONITA, RENA GAY EQUIBAL
335 BONUS, PATRICIA TANSIP
336 BORJA, MARCHIE TEODORO
337 BORMATE, ABEL JOHN BOCO
338 BORNALES, JOMAR CRISOSTOMO
339 BRAVO, CHENNIE MAE ARELLANO
340 BRIONES, FRANCHESKA JULIEZZE ARCEGA
341 BRIONES, JUSTIN LEONARD LAMADRID
342 BRIONES, ROLF RVYNN JAMISOLA
343 BROSULA, JOHN ROBERT MALENIZA
344 BUAN, CATHREL KATE GARDE
345 BUAN, ROMEO JUSTIN YTURRALDE
346 BUCANEG, PAULA MARIE PEREZ
347 BUCAO, TRISHA TANYA BELGIDA
348 BUCU, MA. CAMILLE ABEGAIL SEMILLA
349 BUENA, REYNANTE BAUTISTA
350 BUENAVENTURA, CHARINA MAE VIOLA
351 BUENAVENTURA, KIM RUBANTE
352 BUENAVENTURA, RINNAH JEN BASCO
353 BUENO, VINEZZA JOY ARZADON
354 BUGCAT, JOHN CLEMENN TECSON
355 BULGADO, JINELYN VILLAVER
356 BULUSAN, MA. FEFAYE DELA CRUZ
357 BUMANLAG, HARVEY KENT
358 BUNAGAN, MHARLEOZAR WA-ACON
359 BURKE, VEVERLY JOY HAYANA
360 BUSA, MARY NEL JOY OROSCO
361 BUYAYO, KEZIAH LEIGH BUCCA
362 CABACUNGAN, YEDDA GAIL CABUAY
363 CABAHUG, ANICETO IV RIEGO DE DIOS
364 CABALLES, MA JESSA ANN MANJARES
365 CABALQUINTO, KRISCEL MARIE DALISAY
366 CABANTING, CLAUDETTE IMEE PASCUA
367 CABARIO, SHARLENE BALDOZA
368 CABASAN, ANNA MARIE MANUEL
369 CABIGAS, HENRY PASCUAL
370 CABILANGAN, VICENTE JR TANJUAKIO
371 CABILES, TRISTAN ROY GIL
372 CABLAO, CARL NESTY FELIX
373 CABUDOL, CRISSELLE ANN FARQUERABAO
374 CABUSAO, HONEY GRACE PONGASE
375 CADIANG, ALIANA JASMINE ALCANTARA
376 CAGAANAN, GLORISA MAR VAEL
377 CAGAS, EDUARD JUN MATILDO
378 CAGAYAT, MA YOAN VALDELLON
379 CAI, DAZELEEN YAO
380 CAJITA, MATTHEW ORESTES PECTOR
381 CALABAZARON, EZEKIEL DOMINGO
382 CALACAL, CHRISTINE JOY AMPANIA
383 CALALES, RHON GERARD RIVERA
384 CALAMASA, CHRISTIAN CESAR DALANGPAN
385 CALANDAY, KATHLEEN KAYE IGLESIAS
386 CALANGIAN, ROBBIE SERANTE
387 CALANTOC, JOJO MACADAAN
388 CALBARIO, AIRA JAYDE PUBLICO
389 CALDERON, ALVIN TALATALA
390 CALICA, MARK ANDREW BERNARDO
391 CALIGUID, EDGAR JR NANGNANG
392 CALIMLIM, FATIMA ONG
393 CALIMLIM, MA. ADRIENNE KRISELLE PASION
394 CALISON, JOSEPH AMIR NATIVIDAD
395 CALIXTON, LANCE IVAN FERNANDEZ
396 CALLEJA, DANNA MONICA BALMES
397 CALONZO, MICHAEL O'NIEL POBLETE
398 CALSADO, KRETSCHMER REBATES
399 CALUMBA, RONDEMER BANDIES
400 CALVARIO, BEVERLYN RIVERA
401 CALZADO, CARL ANDREW KESSEL
402 CAMACHO, CHESKERTT IGNACIO
403 CAMBE, CHRISTINE MAE OLAGUER
404 CAMINIO, KERVIN PALANGDAN
405 CAMPOS, ERROL DOMINICK LAPINIG
406 CAMSON, JOHN JAYSON PONTINO
407 CANAPI, AL FAUSTO BINAG
408 CANCILAO, GERALD DE LOS SANTOS
409 CANIO, JUNO CARTA
410 CANLAS, GRANT FRANCIS MAYLEM
411 CANTIL, ALFRED PLASABAS
412 CANTILA, MACKIE CALUMBA
413 CANTON, MIGUEL PARRO
414 CANTOS, PRINCESS MAE GUAVEZ
415 CANTUBA, AL TRELL LAYLO
416 CAO, CEDRIC RODRIGUEZ
417 CAPACIA, AARON BUIZA
418 CAPANGPANGAN, NEIL SENDRIJAS
419 CAPATID, KIMBERLY RODRIGUEZ
420 CAPILI, JHOYCE STO. DOMINGO
421 CAPILLAN, CHARITY CLARISSE PINTO
422 CAPIRIG, EDIZA DESCALLAR
423 CAPISTRANO, ALMIRA ALCANTARA
424 CAPIZ, ALFRED TORRES
425 CAPULONG, KRISSALAINE MADRAZO
426 CAPUTOLAN, TRISHA GABATA
427 CARAME, ALYSSA EDADES
428 CARANDANG, KARL VINCENT MAGPANTAY
429 CARCALLAS, JAMES LYLE LAGARNIA
430 CARDENAS, EDWARD CARANGUIAN
431 CARINGAL, YNA SHARRA HERNANDEZ
432 CARIÑO, SAMSON JR CORDERO
433 CARLOS, ANGELOU FLORES
434 CAROLINO, KRISHA MAE CARAIG
435 CAROLINO, LENIE GRACE FLORES
436 CAROLINO, PATRICIA JANELLE TOLING
437 CARPIO, CAMILLE NIMER
438 CARPIO, DYOSELLE ANDREA AGUBA
439 CARPIO, ROUIE MICO MAMAWAG
440 CASANGCAPAN, RICO MERCADO
441 CASANOBA, JAY ESTOQUE
442 CASES, ANDREANA YVONNE MANZANO
443 CASIBANG, JEAN NIKOLAI BULALAQUE
444 CASIM, JULIE BERCASIO
445 CASTILLANO, DENVER ORLANDA
446 CASTILLEJO, REOLINDO ACORDA
447 CASTILLO, ANNE JORIELLE JAVELLANA
448 CASTILLO, ARIEL COLONGON
449 CASTILLO, JODEZZI LEX SANTELICES
450 CASTILLON, KURT ANGELO BAYOG
451 CASTRO, AARON GABRIEL AMIANIT
452 CASTRO, CAMILLE SALAZAR
453 CASTRO, ERICKSON GUNO
454 CASTRO, HANNAH DIANNE ALBARIDO
455 CASTRO, JONNEL TIONGSON
456 CASTRO, PHIL CHRISTIAN AURES
457 CASULLA, JOHN LEX DALE PATRIARCA
458 CATALAN, JEAN BANAS
459 CATANE, FRANCISCUS XAVIER VILLAVELEZ
460 CATIBOG, YZZA CZARINA MARIE ROSALES
461 CATUNGAL, JAYZEL AUDREY YOUNG
462 CAYABYAB, HANS ERICSON LAUREANO
463 CAYBOT, JOY NESTOR SUAREZ
464 CAYMO, REENA SANTIAGO
465 CAYOMBA, FRANCIS DANIEL TAULE
466 CAYSIDO, YEVGENNY DECANO
467 CAYTON, CHRISTINE BAITLON
468 CAÑAVERAL, LORENZO MIGUEL RAMOS
469 CEFRE, EIA MELISSA OLERMO
470 CELESTE, JAN GABRIELLE MAMPARO
471 CELESTIAL, BLAIR CHRISTIAN CONTAOI
472 CELO, IVYROSE JANIELL CRUZ
473 CELSO, MARK ANTHONY CANDA
474 CENABRE, MIGUEL JUANCHO JABONI
475 CENIZA, VENOEL LIDRES
476 CEQUIÑA, JOHNREY DIVINAGRACIA
477 CEREZO, MARC KEVIN CABALZA
478 CERIALES, MAE BANTOTO
479 CERVANCIA, KATHERINE RODRIGUEZ
480 CERVERO, MA. CHRISTINE MASILUNGAN
481 CHAN, ALEXANDER OCCIDENTAL
482 CHAN, CHRISTOPHER JAN ALBAYALDE
483 CHANDERAMANI, JOSHUA RAGAS
484 CHATO, LAARNI JUNE ESPINA
485 CHAVEZ, ADRIAN LEONARDO UCAB
486 CHAVEZ, CALVIN III BERNARDO
487 CHAVEZ, FRANCIS JULIUS ALEGARBES
488 CHAVEZ, HANNA LOTERTE
489 CHENG, JOSHUA TANPASCUAL
490 CHIN, ELEAZAR VILLAFLORES
491 CHOO, JOANA PAULINE MENDOZA
492 CHOUDRY, JOAN QUIDLAT
493 CHUA, JAIME VINCENT REYNOSO
494 CHUA, WILBUR JR UY
495 CIMENI, LINDSAY ANN VALEREE CLARIN
496 CINENSE, JEROME AMANSEC
497 CLARETE, GERALD DACUYCUY
498 CLAUD, CHLOIE LANCE REPOLDO
499 CLAUDIO, JORAM MICO MERCA
500 CLAVERIA, JOMARI ESQUIBEL
501 CLIMACO, LIEZEL MAE CABANTAC
502 CO, JOHN MICHAEL VILLAFANIA
503 CO, WILLIAM NARAJA
504 COBICO, ERMA JOICE BANIQUED
505 CODERES, VARHAEL ESCUETA
506 CODIMDIM, CHERRY PIE GIACAO
507 COLISAO, FRESCA ADELINE GARCIA
508 CONIZA, JOCYLLE ANNE COMPRENDIO
509 CONSTANTINO, GENILLE SAN BUENAVENTURA
510 CONTRATISTA, NOVELYN KAYE YAGO
511 CONTRERAS, GIANINE BANTA
512 COPILING, CHARLES BALUSDAN
513 CORBO, KRYSTAL CLAIRE FAVILA
514 CORDOVA, AIRIELLE PAULEENE MENDOZA
515 CORDOVERO, CHIENA MAE BULQUERIN
516 CORPUZ, JOHN VIRGO ESCORIDO
517 CORPUZ, RONALDO GRACE
518 CORRES, NIELSON PHILIP RAMOS
519 CORTEZ, JOHN NYLSON LLANTOS
520 CORTEZ, PASCUAL JR. CASTELLANO
521 COSME, REYMART GUMELA
522 COYOCA, JEZZYL ALMADEN
523 COYUGAN, PRECIOUS SHANTEL AMILING
524 CREAG, JEREMY OCCIDENTAL
525 CRISOLOGO, HANNAH NAGAR
526 CRUZ, ACE FERRER
527 CRUZ, CHARIE MAEA GAY
528 CRUZ, EDELSON JOHANN FRANCISCO
529 CRUZ, ISAH MAY SUAREZ
530 CRUZ, JERSEY MAE VILLANUEVA
531 CRUZ, JOSEF RENZO RAGA
532 CRUZ, JOSHUA PACALDO
533 CRUZ, KIMBERLY FAYE DE LARA
534 CRUZ, MEGAN CRISTEL BACTOL
535 CRUZ, PAUL CEDRIC MONTERO
536 CUARES, PETERSON BETACHE
537 CUASAY, MARK CHESTER VELASQUEZ
538 CUEVAS, PATRICIA MARIE SOAN
539 CULARBAR, ROXANNE DINGDING
540 CUNANAN, CHRISTIAN GLEN FIESTA
541 CUNANAN, RAYMOND CALIXTO
542 CURIBA, SHELA LYN IGOT
543 CUSTODIO, MIGUEL TIONGSON
544 D'LONSOD, MONIQUE ELOISE RONES
545 DACANAY, DENISE CHRISTINE BALAG-EY
546 DACIR, MARINEL PEDRERO
547 DACUMOS, JHAN GODFREY TORRES
548 DACUTANAN, ANTHONY LLAMELO
549 DADIA, DARYLLE RAGUINGAN
550 DAET, GLARE IRIS LORICA
551 DAGADAS, NURHANINA KANDA
552 DAGAR, DENMARK SEE
553 DAGDAGAN, DIMPLE CLAIRE CATRIZ
554 DAGUIO, JEAN LOUISE VALDEZ
555 DALINA, ERICA LOUISE RIVERA
556 DALMACIO, LEMAR MENZI
557 DALMAN, CLINTJONE SAPONG
558 DALUGDUGAN, MA ELOISA ORACION
559 DANDAN, ALEX ELDRICK GALANG
560 DANGA, MARIA ELLICE JOY ALVARAN
561 DAO, NOEMI CRUZ
562 DARAC, HENESY FLORENCE ALGABRE
563 DARVIN, ISABELLA RENEE SAN GABRIEL
564 DAUZ, MARYKNOLL DELA CRUZ
565 DAVID, ARMAN GABRIEL DELA CRUZ
566 DAVID, JOHN KENNETH MANALANG
567 DAWAT, NORLYN PINARA
568 DAWI, YE EUN MARICK DAVID
569 DAYANAN, ROCHELLE MARIE ESPADERO
570 DAYANGHIRANG, KATLENE MARIE MANACSA
571 DE CASTRO, EDMUND VINCENT BELEN
572 DE GUIA, BRILLIANE MONTOJO
573 DE GUZMAN, BRYLLE DELA ROSA
574 DE GUZMAN, CLARENCE CALLANO
575 DE GUZMAN, GENE JOSHUA PAYUMO
576 DE GUZMAN, GISELLE LUMIBAO
577 DE GUZMAN, JIMUEL FRANZ REGLOS
578 DE GUZMAN, JOHN NICO MACALIPAS
579 DE GUZMAN, MARY JOYCE RONQUILLO
580 DE JESUS, SHANNEN KHRISHA PAJE
581 DE JOSE, EIANNI PATRICE COMIA
582 DE LA GENTE, APRIL JOY ANCHETA
583 DE LA PAZ, FRANCIS ROY SIA
584 DE LEON, ALLYSON JOY ALDAY
585 DE LEON, ALTHEA GILDA GRANFIL
586 DE LEON, DIANA MAE LEONEN
587 DE LEON, JEAN CLAUDE ESCAURIAGA
588 DE LEON, JOHN CHRISTIAN XAVIER CLARETE
589 DE LEON, MARCUS CASTILLO
590 DE LOS SANTOS, FRANCE IVY ANTIADO
591 DE LUNA, JEWEL MAE DEL MORO
592 DE MATA, ED JERAN CABANELA
593 DE MESA, GERMAN PAULO LUCERO
594 DE MESA, PAULINE MAEH MANUYAG
595 DE OCAMPO, JULIUS MACATANGAY
596 DE QUIROZ, ALYSSA ANNE DEL ROSARIO
597 DE SANTOS, JULIA MARIE MENDOZA
598 DE VERA, GERALDINE MARIE VINLUAN
599 DE VERA, JENSCHEL MOSTAJO
600 DE VERA, JOANNA MARIE LOPEZ
601 DE VERA, JOHN MICHAEL BONI
602 DE VERA, MARY CYRILLE FLORES
603 DEBULOS, DOMINIC DIAZ
604 DECAPIA, RJ SIRINGAN
605 DECENA, OSWALDO JR CORDERO
606 DEFENSOR, CHRISTINE MAE SOTOR
607 DEGUITO, BLINKY PINK AN
608 DEL PRADO, MA. CYNAHVILLE MAZO
609 DEL PRADO, SEAN PAUL LORENA
610 DEL ROSARIO, MA LERRY MAY SANTOS
611 DEL ROSARIO, VINNIE ISIDRO
612 DELA CRUZ, DARYN BURGONIO
613 DELA CRUZ, ELAIZA MAE LIM
614 DELA CRUZ, JHONBERT VIBAR
615 DELA CRUZ, JOHN BENEDICT CUADE
616 DELA CRUZ, JOHN STEPHEN FABIAN
617 DELA CRUZ, KIM-IAN BENDOL
618 DELA CRUZ, MARY GRACE ASUNCION
619 DELA CRUZ, REILEEN MITZ MANAYAN
620 DELA PEÑA, JANE CAMILLE PERALTA
621 DELA RAMA, JOANA MARIE DACO-AG
622 DELA RIARTE, CAMMILE REYES
623 DELA ROSA, PATRICK LAWRENCE ENCARNACION
624 DELA VEGA, MARION GAIL DELA CRUZ
625 DELFIN, PAUL MIGUEL SACDALAN
626 DELGADO, JASON ALVAREZ
627 DELGADO, KRISTINE ISABEL HOJILLA
628 DELGADO, MINETTE MANZANILLA
629 DELLORO, CHRISTINE MAE ATENTA
630 DELLORO, JODY PANUNCIO
631 DELLOSA, SAILENE GUEMO
632 DELOS SANTOS, AMIEL SANTOS
633 DELOS SANTOS, MARIAN AGNES BARAIRO
634 DELOS SANTOS, MELISSA BACHOCO
635 DELOSREYES, US FLORESCA
636 DEMOCRITO, EDNIL DELOS REYES
637 DESABELLE, ANDRE ANGELO BAYBAY
638 DESALIA, ANTONIO JR PONCEJA
639 DEVOTA, DIANE CAMILLE CARANTO
640 DEYAN, BRIAR ROSE ANN DATING
641 DIAMSE, KRISSEL JEM TIGLAO
642 DIANO, RED RUIZ
643 DIANZON, JOYCE ANN MARIEL DE LARA
644 DIAZ, KEITH JERICO MAGBOO
645 DIAZ, NOLI JR BERMAS
646 DICDICAN, MATTHEW BELARDO
647 DICHOSO, DARLENE PAULA COMANDA
648 DIESTA, KIER ROMAR HABAL
649 DIG, JOCELLE MAE JIMENEZ
650 DIMAANO, PGSTEPHANIE COLLADO
651 DIMAAPI, LANCE ANDREI ABLAN
652 DIMACULANGAN, ALLEN JUSTIN SANTOS
653 DIMAGIBA, BYIEN MIKKAYEL MCKENNA
654 DIMATULAC, EDGAR MANDI
655 DIMAUN, MAE ANN SISON
656 DIMOL, JAN MARIE ESPADA
657 DINGLASAN, MARTIN JOHN CAMPS
658 DIOCALES, ANA KRISTINE MAE LATUBE
659 DIONEDA, ROMMEL VIDA
660 DIONELA, JUVYLYN NALAUNAN
661 DIONISIO, SANDRA CLARISA DE LEON
662 DIOPENES, JAZLYN GOCO
663 DIORAS, SANDY RADA
664 DIPUTADO, CLYDE ADANZA
665 DISIMULACION, JOHN GIL MUTOC
666 DIVIDINA, JAYVEE LATOSA
667 DIZON, CHARLOTTE PIERRE CERRUDO
668 DIZON, JOHN DOMINIQUE BANAG
669 DIZON, RYAN JAY DE LEON
670 DIZON, SHARA MAE CALINGASAN
671 DIZON, SHERWIN DALE CUNANAN
672 DOCTOR, KRISTEL RELADOR
673 DOLAUTA, MARY KEISHA FULLIDO
674 DOMINGO, DENMARYNNE DAMO
675 DOMINGO, RICA LYN MARIZ SIOCO
676 DOMINGUEZ, GENEVIEVE YACAPEN
677 DOMINGUEZ, IRA MARIE GABRIELLE RULONA
678 DONIO, POCHOLO ALEXIS BAUZON
679 DONOSO, ELLAINE MAE MALAJACAN
680 DUCENTES, JOED BATURI
681 DUGADUGA, JOANAH BALLENTOS
682 DUGANG, COLINE ANNE GAYLE MILABO
683 DULATRE, AVRIL JUSTIN VILLACORTA
684 DULAY, CHRISLYN JOY YARCIA
685 DULAY, JENNY ARTIZA
686 DULNUAN, DAVIS LEY KIMAYONG
687 DUMADAG, DESIREE FAITH VACAL
688 DUMAGUIN, HUBBARD WILLIAM FERRER
689 DURIAN, LEONARDO RIVERO
690 DUYAO, JARWIN YUMUL
691 DY, CHRISTIAN MENDOZA
692 DY, LINDSY KAYE PARADERO
693 EBOL, HERCULHES HANOPOL
694 ECLARINAL, JUSREEL ALVIZ
695 EDERA, EDELYNN MURPHY
696 EDQUILAG, EUGENIO III DIVINAGRACIA
697 ELEGINO, KIM TINAO
698 ELEMANCIL, AYRA RIKA QUEÑANO
699 EMALADA, EMACRIS NOEVI CRISOSTOMO
700 EMILIO, GERAMIL
701 EMPERADOR, JOLUISSE HUFANA
702 ENCARNACION, NINA DIAZ
703 ENERO, JHUNBERT DABUET
704 ENGAY, ELAINE LOPEZ
705 ENOBAL, JOHN VINCENT REANO
706 ENRIQUEZ, ANGELICA FORTICH
707 ENRIQUEZ, KENT REAN SUMIMBA
708 ENRIQUEZ, MONICA CANTILLON
709 ENRIQUEZ, RODOLFO JR EVANGELISTA
710 ERAYA, JEWEL DANIELLE BAYONA
711 ERRIBAL, DENNIS JR SILLORAR
712 ESCABUSA, ADRIAN CLARK CEPEDOZA
713 ESCABUSA, JOHN VINCENT DELA CRUZ
714 ESCALA, CHURCHGILLIAN PAULIANNE ABRIL
715 ESCALANTE, LEO PATRICK MASALING
716 ESCAME, RIAN JOSE SERRANO
717 ESCANDAR, ZEHDAN KADIL
718 ESCAREZ, LIANE ROSE MENDEJA
719 ESCOBIA, CHRYSLER JOY BUENAVENTURA
720 ESCOPETE, SHEENA GRACILLA
721 ESCOTO, JONAH DARRYL BARANDA
722 ESPAÑOL, CZARINA SHAINE CRUZ
723 ESPAÑOL, MIGGUI ALCANTARA
724 ESPAÑOL, RAYMART PILA
725 ESPAÑOL, RAYMOND AJES
726 ESPEJO, MICHAEL RAFANAN
727 ESPERANZA, KATHLEEN INTAL
728 ESPEÑA, MARY JOY ENCINARES
729 ESPINOSA, ROSELYN ANAQUE
730 ESPINOZA, JENNIEBELLE SOTTO
731 ESPIRITU, KRISTINE BERNADETTE ZABLAN
732 ESQUIBAL, VERYL NIÑA MADRID
733 ESTANQUE, JOYCE ANN SIPAT
734 ESTEBAN, EMMANUEL JR DELA CRUZ
735 ESTEBAN, JOHN LORENZ GENEROSO
736 ESTERON, DIANA ROSE ENCARNACION
737 ESTOREON, MAELOU DAHILAN
738 ESTRELLA, MARRICK AUSTRIA
739 ESTRIBELLO, VIA BERNADETTE RAFAEL
740 EUROPA, MICAH ANGELA MIANO
741 EVALLE, ALIEN JANE CANCERAN
742 EVANGELISTA, DEWI VANESSA LABRA
743 EVANGELISTA, KRISTEL JHOY SANDOVAL
744 EVANGELISTA, MARL JAYES SANTOS
745 EVORA, EDHSIE VRIAN GEDUCOS
746 FABILLAR, FRANCE PALOMAR
747 FABON, MARIE EIRENE FLORENTINO
748 FABREO, MICHAEL ANGELO VICTORINO
749 FABUNAN, HONEYLENE GONZALES
750 FAJARDO, ARVIN DOMINGO
751 FAJARDO, MARC JUSTINE DIONISIO
752 FALABI, JOHN PAUL MAHILOM
753 FALCESO, JENARD DAVID MARTIN
754 FALCON, GILO DULAY
755 FALCUNITIN, JED HERNANDEZ
756 FALLER, GABRIEL CUSTODIO
757 FAMADOR, KEAN EMMANUEL LLAGUNO
758 FANDIÑO, JOSEÑO VICENTE LAURENCE TERUEL
759 FANGLOY, CHAG-AY CARIÑO
760 FANTONE, CAMILLE KAYE PALENCIA
761 FARIOLA, JOSHUA NIÑO QUEZON
762 FAULAN, CAMILO LABARGAN
763 FAURILLO, JOCELE MERAÑA
764 FAURILLO, NIMWEL JR CUSTODIO
765 FEDILES, PRECIOUS COLEEN ALONZO
766 FELICIANO, MIGUEL GARING
767 FELICIANO, PATRICK DELA CRUZ
768 FELICISIMO, RICEL MAE PAUIG
769 FELIX, MIKE JOHN DALE FONTANILLA
770 FELONGCO, GERALD PAUL SERMON
771 FERMANES, JOHN MATTHEW ESTACIO
772 FERMO-HILARIO, LHAR MAINE MAGRIMBAO
773 FERNANDEZ, GINA GASIS
774 FERNANDEZ, JOSE JR RAFOL
775 FERNANDEZ, KIEL MARTIN ALEJO
776 FERNANDEZ, MARY AUBREY CABRERA
777 FERNANDEZ, REINA JEAN
778 FERNANDEZ, RUTH CHRISTINE CARPO
779 FERNANDO, NIGEL LEANG
780 FERRER, FRANCO MANOTA
781 FERRERAS, ACE KEVIN SISON
782 FERRERAS, JONESSA LYNN DEL PILAR
783 FETIZANAN, DEBORAH JOY MONSANTO
784 FIGUEROA, JOSIAH ROYUPA
785 FIJO, ROSEREY QUIBAN
786 FLORENDO, KENNETH
787 FLORENDO, MARTINA JEUNESSE BEROÑA
788 FLORENDO, RAVE VR DUCUSIN
789 FLORES, CHELYNENN SARMIENTO
790 FLORES, FYN JUNETTE ALMAREZ
791 FLORES, MAEVE JASMIN SHELLY REGAÑA
792 FLORES, ROSE ANNE ABAYA
793 FLOREZA, PATRISSE CABARON
794 FONG, ALAN SAMSON DEGUZMAN
795 FONSECA, MARLON GOSMO
796 FORTES, ELIZABETH SELGA
797 FORTUNO, GILYAN LECTANA
798 FRAGILE, TREXY ANDREA BUNGABONG
799 FRANCISCO, AIMER JOIE SANTOS
800 FRANCISCO, KENT CARIEL GEPOLAN
801 FRANCISCO, MARRI LOURRAINE DIZON
802 FRANCISCO, NICOLE GAIL GONZALES
803 FRANCISCO, WINHEL KENT BALINAS
804 FRANCO, GEOFF LICUP
805 FRIO, JANN ERRVICK QUERUBIN
806 FUENTEBELLA, CARL ANTHONY ALFANTE
807 FUENTEBELLA, KATRINE POLIDO
808 FUENTES, RYAN URETA
809 FULGUERAS, MA. ANGELICA ACIDERA
810 GABA, RICHELLE GRAFILO
811 GABOR, CHARILOU
812 GABRIEL, LARA MAY AMPARO
813 GABUAT, CHARMAINE OPEÑA
814 GADGAD, DEISEL MOLITAS
815 GADIANA, BEATRICE DELOS REYES
816 GALAN, CLARK DIETHER LOQUENTE
817 GALANG, DAVID JOSEPH BANGALAN
818 GALAO-EY, IA GERI TOLITO
819 GALESA, IRISH CALAMBA
820 GALGAL, ZYRLYNN TUNAY
821 GALILA, HAZEL ANNE REYES
822 GALLAR, SHEILA MAE CAÑONES
823 GALLARDO, ALBERT JERICK MEDINA
824 GALLARDO, CHARLES JOHN NICOLAS
825 GALLARDO, NATHAN JASON GALANG
826 GALLEGO, BERN JAMES AREVALO
827 GALLETA, GRACE HABAN
828 GALLETES, JULIUS ESCORIA
829 GALO, CHRISTIAN FREDERICK GAURANO
830 GALUPE, JUDITH LEONOR LOPENA
831 GALVAN, ARANTXA KRISHNA CARRA
832 GALVAN, BERNADETTE DELA CRUZ
833 GALVAN, JOHN COLLIN LIZADA
834 GALVAN, TANYA GRACE SUATING
835 GALVEZ, PRINCESS EPHRYLL JARAVATA
836 GAMAT, ISABEL CLAIRE ADRANEDA
837 GAMIS, JANE CLAIRE BUÑAG
838 GAMIT, GERALDINE JARQUIO
839 GANANCIAL, MICHAEL JOEFFREY ORTEZA
840 GANDO, AINAH MAE MAÑALAC
841 GANELA, CHRISTIAN DOMINGO
842 GANTE, CARLA JANE JULIANO
843 GAPI, RACHEL SHANE SUMAYAO
844 GAPUSAN, BRAVES ANTHONY CUARESMA
845 GARALDE, JAZZY MAY AREVALO
846 GARCESA, ABIGAIL FEA DIAZ
847 GARCHITORENA, CARLA YUSON
848 GARCIA, AENJEL ALTEZ
849 GARCIA, ALEXANDRA GILLIAN SALE
850 GARCIA, ALYSSA BERNICE NICOLE SAPLALA
851 GARCIA, BERNARD RAMIREZ
852 GARCIA, CHELSEA DELA CRUZ
853 GARCIA, ERICKSON VILLEGAS
854 GARCIA, JOHN ARVEE SALAZAR
855 GARCIA, JOHN PAUL VITALICIO
856 GARCIA, JONALYN GRACE CULAR
857 GARCIA, KEVIN KONG
858 GARCIA, MELROSS II BUENAVENTURA
859 GARCIA, NICA JANE
860 GARCIA, PAOLA QUEENIE MARIE ADAJAR
861 GARCIA, RAFAEL LUIGI MEDINA
862 GARCIA, RENCYBETH GALO
863 GARCIA, SHANTHY AYEZZA CHUA
864 GARDUQUE, IAN ROFER REYES
865 GARETE, ERWIN HAPITAN
866 GARGAR, RACHELLE BADILLES
867 GARGARITA, JO SEMINIO
868 GARIBAY, AARON PAUL CRISTOBAL
869 GARRIDO, CLYDEL CALDERON
870 GARRIDO, DEBORAH MIRANDA
871 GASCON, ALYZA HEMARI BIESCAS
872 GATAL, ERIKA GANTUANGCO
873 GATAN, MARTHA GIANINA GOSUICO
874 GATCHALIAN, ANGELICA NICOLE LEONARDO
875 GATCHALIAN, PAULYNNE MARISSE ANDRADA
876 GATMAITAN, PAULA JANE SORIANO
877 GATUS, PAUL ANTHONY ANZURES
878 GAY, MARIA EDNALYN MONSALUD
879 GAYTANO, EZEKIEL LUIS RABE
880 GEDALANGA, JEMAR TAPION
881 GEDALANON, KENT FUENTES
882 GEMINIANO, CHRISTOPHER SURIO
883 GEMPERLE, HANNAH CLARIZE JAMET
884 GENETA, HAROLDSON RIVERA
885 GENOVATIN, FRANZ JASON BEDAÑO
886 GEREMIAS, RODJHON BARTOLATA
887 GERMONO, LANCE WILYOL CANOY
888 GERONIMO, MARIA FELIS LIZAN
889 GERONIMO, SARAHLEE MARISCAL
890 GERVACIO, MARY JOY MACABUHAY
891 GIANAN, AERON JIREH PURAL
892 GIANAN, JASON TAPAS
893 GICA, MARIE THERESE CAÑIZARES
894 GICOS, PATRICIA DEON GAROLACAN
895 GILFILAN, SHAVRIL DAZZLE TANDING
896 GINTURO, ALVIN JOY ISTO
897 GIRAY, CARLOS JR PUYOT
898 GITA, CARL KEVIN EVANGELISTA
899 GLORIANI, RIVA MARIANNE NUESTRO
900 GO, CLANCY OLORGA
901 GO, DIANE KATE YEO
902 GO, ELTON JOHN COLUMNA
903 GOBRES, BERNADETTE AÑAIN
904 GOLES, BLUVELYN SILVANO
905 GOMEZ, BIEN CARLO ADAOAG
906 GOMEZ, CHRISTIAN VINCENT TORRES
907 GOMEZ, GRIZEL BORRA
908 GOMEZ, JOSHUA PHILLIP
909 GOMEZ, MARY ALLAINE BACUNAWA
910 GOMEZ, SOLEI VENGCO
911 GONTINIAS, JELIAN CORNESTA
912 GONZAGA, ALLISON JAYAG
913 GONZAGA, MIKHAELA MERTO
914 GONZALES, CAYTE AMYL RAMOS
915 GONZALES, DIANNE DIZON
916 GONZALES, MARVIN NAPARATE
917 GONZALES, NIÑO JEROME CLEMENTE
918 GONZALES, PAULO ABOBO
919 GONZALES, ROME AMIEL PADUADA
920 GONZALES, TONI LOI VALDEZ
921 GOPENG, PRINCE WILLIAM GAYANA
922 GOPEZ, MAE ANN MANALUNGSUNG
923 GOYENA, SHANNA MAE BRECIA
924 GOZE, JOWEN WHIPP CABUENA
925 GRAFIL, BIANCA CLYDELL AGUILA
926 GRANA, ARLENE JOY LLAPITAN
927 GRANTOS, IAN BORRES
928 GREGORE, JEAH MAE GA
929 GREGORIO, CRISTINE RABINO
930 GUANLAO, RENMARK NULUD
931 GUBALLA, PATRICIA NICOLE LALU
932 GUE, KELLYNA KASSANDRA MARTINEZ
933 GUERRERO, JOHN VINCENT SANCHEZ
934 GUERRERO, OREJET TEJERO
935 GUEVARA, BENELYN CATES ABAD
936 GUEVARRA, ERALD ALLAN QUIMNO
937 GUEVARRA, JESSA PORTACIO
938 GUEVARRA, KATHERINE FORTUNO
939 GUILLERMO, EYK VAN ERICKSON CALIZO
940 GUILLERMO, QUEENIE ROSE SY
941 GUITERING, JOHN CARL TUMANGUIL
942 GUIYAB, ALVIN BARIUAN
943 GUIÑAREZ, MARIALYN ALIASOT
944 GUK-ONG, KARL AÑONUEVO
945 GULINAO, HYACINTH ARIENHAIL ROJAS
946 GULMATICO, ALJUN SAGUINDAN
947 GUMARU, NOEMI BACCAY
948 GUNIO, MIRA KATRINA DE GUZMAN
949 GUNNACAO, ALEC CARANDANG
950 GURAY, JERRYMIE FLORES
951 GUTIERREZ, ARVIN NULUD
952 GUTIERREZ, CARMELINA BRIANNA ABALOS
953 GUTIERREZ, CHRISTIAN DAVE VICTORIANO
954 GUTIERREZ, CHRISTIAN MARK MALLARE
955 GUYA, BIANCA YSABELLE LUCAS
956 GUZMAN, IRIE MAE BULAUAN
957 HABAL, ABEGAIL ESPIRITU
958 HAGUISAN, JEF VINCENT SAGRA
959 HALON, ELDRIN JAY CABRAL
960 HAPA, VAN ZACHERY GARAY
961 HAYUDINI, SHAIRA FE PADAGDAG
962 HERCO, ANA VICTORIA YUTUC
963 HERMANO, JANICE SUMBING
964 HERMOGENES, NEIL CARLO CESMA
965 HERMOSO, RUFUSS FULVIO ORFRECIO
966 HERNAEZ, HAROLD MOLINA
967 HERNANDEZ, MARJORIE NULUD
968 HERNANDEZ, ROWELLA DANIELLE WATAN
969 HERRERA, JENINA ROSE RICARDO
970 HERRERA, JOHN AARON ALISUAG
971 HIPOL, MARC CHRYSLER GURION
972 HIWATIG, JENKINS CHRISTIAN KASILAG
973 HONRADO, AUBREY TRIBUNSAY
974 HOP, RIO LAGAT
975 HUFANCIA, KATHLEN CAMILLE HERMIDA
976 HUGO, JOSHRILLE JOHN HORTILLAS
977 HUGO, SHEENA MAE SUMANIA
978 HUILAR, NORIELLE DAWN TUPAS
979 HUSSEIN, SARAH PEREZ
980 IBARRA, JUSTINE MARI BASILIO
981 IBARRETA, NOEL PALMIANO
982 IBASCO, JONA RAYELA
983 IBAÑEZ, JONAHLYN BELANDREZ
984 IBE, ARCHIE ESGUERRA
985 IBIAS, RENE CARLO ORCELADA
986 IFURUNG, JOHN PAUL ROBLES
987 IGNACIO, MARK RANNIE DELOS REYES
988 IGNACIO, ROMARK ANCHETA
989 IGNACIO, ROWIE ANN BACOMO
990 IGTIBEN, GILLIANBERT ANDREA JALDO
991 ILAY, MARY JANE DACANAY
992 ILIGAN, LUDOVICO JR ILLUSTRISIMO
993 ILLUSTRISIMO, JOHN CARLO MOLETA
994 ILUSTRISIMO, IAN KENNETH MAGLINTE
995 IMPERIAL, CHRISTIAN GEORGE ADRIATICO
996 IMPERIO, JONATHAN EMMANUEL PONCIANO
997 INES, VLAIZEN AIRELLE MENDIORO
998 INFANTE, JENNIFER JOY QUINTO
999 INFANTE, NIKKI ELIEL MORON
1000 INGAL, CEE JAE DWIGHT ONG
1001 INGALLA, PAULO ENRICO DE LAZO
1002 INOCENCIO, EMMANUEL DUSARAN
1003 INOCILLAS, JHOECAS ABERABBE CANDO
1004 INSO, SHARMAINE LOTILLA
1005 INZACRUZ, JULIET IRIS ONING
1006 ISIP, JAY-R MIGUEL
1007 ISMAEL, ALNADGER SALAVAREZ
1008 ISON, MARCO CAJUCOM
1009 ISRAEL, MAXELL GAYOLA
1010 ITIS, DARWIN SANTIAGO
1011 JACOSALEM, JOHN PAUL MAGONCIA
1012 JAINAL, YA-EL ALTAYA
1013 JAMISOLA, RIZZA CORRAL
1014 JANO, JOHANN BENEDICT CABAGAY
1015 JAO, MARIEL ANGELA MEJIA
1016 JARABA, JOHN CHRISTOPHER ALMARIO
1017 JARINA, CRISTY ANDAL
1018 JAUCIAN, ANGELO TOMAS
1019 JAURIGUE, JOHN VER ALIMAGNO
1020 JAVIER, JOHN NIEL RETIZA
1021 JAVIER, JOYCE ELLEN HERNANDEZ
1022 JAVIER, RHALLYN JOICE RENEGADO
1023 JAVIER, RICHELLE JOY CLAMONTE
1024 JAVIER, VICTOR NEIL TING
1025 JAWALI, JURRAZHID IBRAHIM
1026 JAYLO, PRINCES XYRENE TUMBANGAN
1027 JIMENEZ, MC DONALD YALA
1028 JO, HYO JEONG DULNUAN
1029 JOAQUIN, JONATHAN BALINGAO
1030 JOPSON, CARL JAY MENGUA
1031 JORDAN, DUSTIN KRISTOFER BAUTISTA
1032 JOREN, JOLINA ARNIDO
1033 JOSE, HOWARD BALDWIN CANDIA
1034 JOSE, JADIE IVY GEDO CRUZ
1035 JOSOL, HERA PRINCESS CAITOM
1036 JOSOL, NINYA ALEXANDRA TABIOLO
1037 JOSON, MA RUVIVA MIRAÑA
1038 JOVENAL, JERAMEEL RITUMALTA
1039 JULAO, MATTHEW RALD TANDUG
1040 JULATON, CHARLYNNE JOY HORTIZUELA
1041 JUMAMIL, CJ EPHRAEM TRAÑA
1042 JUNI, LIZA MAY SULTAN
1043 JUNIO, JHOMEL DELOS SANTOS
1044 JUYAD, JEROME BESAGAS
1045 KAWPENG, THOMAS MATTHEW LIM
1046 KENG, TIMOTHY ANDREW LIMSIACO
1047 KIM, JU YOUNG JAMES LAGUYO
1048 KO, BHING-BHING PANAGSAGAN
1049 KUIZON, KEANE CAHAMBING
1050 LABAYNO, RIZALYN GASENDO
1051 LABBAO, MARCELINO III REBOLLEDO
1052 LABIAGA, KARL REYSTER TE
1053 LABSANG, ALYSSA MERYLL VIESTA
1054 LACCAY, EDUARDO TOBI
1055 LACDANG, ROGELIO JR ASPERA
1056 LACSAMANA, MOIRA ANN REYES
1057 LACTAOEN, ROBERT LEMUEL PERALTA
1058 LADIA, JANA GABRIELLE JADRAQUE
1059 LAGAN, CLARK ANTHONY RONGO
1060 LAGARE, JEANETH PUGONG
1061 LAGASCA, JUANITO EMMANUEL III SALCEDO
1062 LAGRADA, JULIEN DAVE GARCIA
1063 LAGRAMA, MA THERESA MAE LAREDO
1064 LAGUA, JOHN PAUL JURADO
1065 LAGUDA, JANNINE RHINZ
1066 LAGUILLES, LANCE CEDRICK BORJA
1067 LALIS, ISSABELLE MAE MENDIOLA
1068 LALOY, VALYN JOY ARLOS
1069 LAMBIGUIT, PRINCESS ANN PAHUYO
1070 LAMBINICIO, SHIELA MAE ESPERIDA
1071 LAMBINO, JASPER MARK DE GUZMAN
1072 LANDICHO, VIA JANE MANLINCON
1073 LANG-ES, JOHN MARK BUGARIN
1074 LANGCAY, CARMINA MAE AGUILAN
1075 LANTIN, AMARIE BIANCA TACUT
1076 LANTOD, OMAIDAH AMPA
1077 LANZAROTE, JOHN MARC RIZARDE
1078 LARA, ANGELA BICHAYDA
1079 LARINO, KIRSTIE MAE KATE PABELONIO
1080 LARIRIT, WILKINS DERECHO
1081 LARRACAS, JULIENNE CELINA GUEVARRA
1082 LASCANO, REGINA GRACE URETA
1083 LATUGA, KATHLEEN OSEO
1084 LAUDE, ARYAN VENZ BRUTAS
1085 LAUNIO, JOHN EMERSON GALANG
1086 LAURIO, VAL CAPELLAN
1087 LAURON, ELDRECH IYAS
1088 LAXAMANA, RAQUELLE ERISE
1089 LAYESA, RELAINE REYES
1090 LAZARO, KIRSTEN AUDREY JOSE
1091 LAÑAS, NIEL PATRICK FLORES
1092 LAÑGI, JEROME PAUL RAÑADA
1093 LEAGUE, WINCESS ZYRAH AQUINO
1094 LEDESMA, CHAIRMANE ANNE BABA
1095 LEDESMA, SASKIA DUEÑAS
1096 LEE, FRANCIS JAMES III LEE
1097 LEE, IVAN LLANOS
1098 LEE, JOSEF CARLO MOLATO
1099 LEGASPI, KARLO ISRAEL BAUTISTA
1100 LEGASPI, KENNETH REVILLEZA
1101 LEOBRERA, CHINEE CAPILA
1102 LEONCIO, JAYSON BASCO
1103 LEONG, ELREN JAIMELLE ENOC
1104 LEPPAGO, ROEGIE ASIADO
1105 LERIT, JANNETH CANO
1106 LEYRAN, JEROMIRA LUZ VENUA
1107 LIBARNES, MEL BRIAN JACILDO
1108 LIBRES, CHRISTIAN MARK FRANCISCO
1109 LIBUNAO, JIANNE ROMERO
1110 LICTAO, JESSIE JAY OLPINDO
1111 LIM, JEREMIAH YPIL
1112 LIM, MARY THERESE ALSOLA
1113 LIMIN, AIBI JOSHUA MORALES
1114 LIMIN, STEPHEN SHAZNAY MORAL
1115 LIWAG, JHENIKKA MAE CALANOG
1116 LIWANAG, RONALDO DELOS REYES
1117 LIZARONDO, AUSTINE JOHANNES MARQUEZ
1118 LLACER, MARIANNE BERNADETTE KILEM
1119 LLADONES, JESUS ROMMEL SANTILLANO
1120 LLAGAS, LAWRENCE PAUL PADUA
1121 LLAMIDO, CHRISTY ANN MENDOZA
1122 LLANTO, JANELLE SAUSA
1123 LLOBIT, MA AMABELLE SOPERA
1124 LLORENTE, LORD SHEM CABIL
1125 LO, SCHUYLER RUSSELL JACKSON
1126 LOBATON, ELIZABETH WENDY JALANDRA
1127 LOBERIANO, FEL ROYCE YULO
1128 LOCSIN, MARGAUX ARIATE
1129 LODEVICO, ELMER MEDRANO
1130 LOGARTA, ERICA LORRAINE ARSENAL
1131 LOGROÑO, CYBIL DIANENA PAÑA
1132 LOPEZ, AARON JOSEPH DE LA CRUZ
1133 LOPEZ, GEMIL LARGO
1134 LOPEZ, MARIE RAPHAELLE SALVACION
1135 LOPEZ, RAFAEL DELFIN SANTIAGO
1136 LORENA, RICHARD MARC GUERRA
1137 LORENZO, CHOZEL VINN TIONGKIAO
1138 LORENZO, JAYZEN JUANCE
1139 LORENZO, JOHN PAUL JAYSON
1140 LORICA, JOHN KEVIN ESGUERRA
1141 LOTINO, CHRISTIAN ERICK PELAEZ
1142 LOTINO, JASTINE ANN TEÑA
1143 LOZADA, AUSTIN WARREN DELA CRUZ
1144 LOZANO, JAMILA TAMAYAO
1145 LOZANO, NIKKI SISON
1146 LUAR, DAWNELLI MAHOMOC
1147 LUBIANO, JUNIEL CHRIS VILLAS
1148 LUCAS, ANNABELLE ABAYARE
1149 LUCAÑAS, JESSA MARIE AREVALO
1150 LUCBAN, REAH MAE REFUILO
1151 LUCERO, CHARLES EDUARD NICHOL DY
1152 LUDAES, JENCHEN CADIAY
1153 LUGTU, ANGELA OCAMPO
1154 LUMABAO, GLEAN PAULO ALIOCOD
1155 LUMAHANG, LIMUEL PAUG
1156 LUMAYAG, MARY ROSE DONILLO
1157 LUMDANG, MARKJUN CHARLES CASTILLO
1158 LUNA, JUNE FAYE LOMA
1159 LUNAR, MARK MORALES
1160 MAALAT, PATRICIA MILAGROS MINDAÑA
1161 MABALE, V NACIS
1162 MABANSAY, ROCKY JONES TAGUIAM
1163 MACALANDA, JERIC ABULENCIA
1164 MACALOS, GENN RYAN ARANAS
1165 MACAM, BONNIE PETIT MORILLO
1166 MACARAIG, GELEN CRUZ
1167 MACARIO, HANNAH FELICIA UBALUBAO
1168 MACASINAG, JOHN PAULO HISARZA
1169 MACASINAG, JOMAR EVANO
1170 MACATIGBAC, SHAIRA MAULLON
1171 MACHINAL, FRANCIS JAMES ESPADA
1172 MADAYAG, FITZ WALTER BARON
1173 MADRID, ELIAS MAXIMO JR ABARIENTOS
1174 MAGADIA, JOSE MARIA FERNANDO MAÑOSCA
1175 MAGARARU, RIZZALYN GOMEZ
1176 MAGAT, LORAINE JANE GARPIDA
1177 MAGBANUA, EVAN GRIFFORD DELOS SANTOS
1178 MAGBANUA, JOEMARIE JR RAMOS
1179 MAGBANUA, MELVIN JAKE SARTIGA
1180 MAGBOO, BEATRIZ PEÑAS
1181 MAGLAQUI, PAULA BEATRIZ RODRIGUEZ
1182 MAGNAYE, KARISA PHERENA MENDOZA
1183 MAGNO, JAYMEE ANNE ESTRELLA
1184 MAGQUILAT, KIMBERLY PATRICE VILLENA
1185 MAGSINO, FRENCESS ROMENA
1186 MAGSINO, NYRO JOSEPH DELA CRUZ
1187 MAGUSIB, KEVIN CABADDU
1188 MAKILAN, KAREN MAE DECENA
1189 MALAGA, CYRIL JR ANDAL
1190 MALAYAO, CHRISTINE ANGELIE CABUSAO
1191 MALAYBALAY, JASMINE IMPERIAL
1192 MALICDAN, JUNNIELE BATCAGAN
1193 MALINAO, IAN MARK LLOYD ESPARAGUERA
1194 MALIPOT, RJ JOSE MOLATO
1195 MALLARI, ANGELICA JOYCE LLANES
1196 MALLARI, DANIEL GLENN SOTECO
1197 MALLARI, FRANCESCA LOUISE PALANCA
1198 MALLARI, PATRICK JUSTINE REIS
1199 MALLILLIN, JERICK VERGEL DE DIOS
1200 MALLORCA, EFFENY MORATA
1201 MALTU, JOSEPHINE PUNZALAN
1202 MALUPENG, EDISON HARVEY RODRIGUEZ
1203 MAMARIL, KRISTINE MARY CABILTE
1204 MANA-AY, BEVERLY TRIX SONZA
1205 MANABAT, JAMES VINCENT PRING
1206 MANABAT, NHEL ALDRIAN DOMINGO
1207 MANALANG, ARIEL JOHN MARALIT
1208 MANALASTAS, ALICIA GUINTO
1209 MANALASTAS, JOHN PAUL NICOLE
1210 MANALILI, DANNA MAY GALAROSA
1211 MANALO, JARRELL VILLAMARIN
1212 MANALO, JAY GUINTO
1213 MANALO, VANIE JOY FEVIDAL
1214 MANANSALA, CARBY MANITI
1215 MANANSALA, JANELLE KYLE SALONGA
1216 MANANSALA, KRIZIEL MENDOZA
1217 MANARANG, JADE ELTO AQUINO
1218 MANASIS, GERALD PAOLO SERVANA
1219 MANATOM, JAMAICA JEAN AGUILAR
1220 MANDIGMA, ALJON RYAN RARANG
1221 MANENGYAO, JOSHUA CUE
1222 MANGACO, KHRYZ ANNE CAPITLI
1223 MANGAY-AT, ABRAHAM VIERNES
1224 MANGONON, JEREMY RUYERAS
1225 MANGSAT, ROGIN GUIMERA
1226 MANGUIAT, YCKA PINTOR
1227 MANIAGO, RALPH CHRISTIAN NATIVIDAD
1228 MANIGOS, THEONE GWYN VALENTEROS
1229 MANINGDING, JOAN MAE MANUEL
1230 MANIT, MARC KEANNU MORGA
1231 MANTILLA, LYNSIE COLICO
1232 MANUEL, JOHN CHRISTIAN SANTOS
1233 MANUEL, MARIELLA OLEGARIO
1234 MANZANILLA, J.B.JOAO CUNANAN
1235 MANZANO, FELYROSS GASPAR
1236 MANZANO, GENE EZEKIEL REQUIDAN
1237 MANZANO, NIKKI LEE SALENGA
1238 MAPUYAN, JOHN CEDRICK DIONGSON
1239 MARAMAG, EVANGELINE PABLO
1240 MARANTAN, PIA MARGARITA CHING
1241 MARASIGAN, PATRICIA ANNE LACTANIN
1242 MARASIGAN, REYMAR JAY REYES
1243 MARASIGAN, ROMMEL ALLEN FAYLONA
1244 MARCALAS, DENISE JENCEL DE MESA
1245 MARCELO, RENZ CHRISTIAN VICTORIO
1246 MARCIAL, MARC ALWYN RETANIA
1247 MARCIANO, REY ALEXIS LOGMAO
1248 MARIANO, ARISTOTLE GERARD AQUINO
1249 MARIANO, ASHLEY SERRANO
1250 MARIANO, GENE CHRIS PEREZ
1251 MARIANO, JOSHUA KHYLE RAMIREZ
1252 MARIBBAY, MIA CELINE RAMONES
1253 MARIMON, KIN JESSON ROSALES
1254 MARINAY, CHIARA MIHIEL SANCEBUCHE
1255 MARIÑO, AIZLE JOAN BAGABAGON
1256 MARQUEZ, ARRYZA PAMELA PANGANIBAN
1257 MARQUEZ, PHOEBEJHEAN BRILLANTES
1258 MARTIN, JEAN LAURENZE PAEZ
1259 MARTIN, LUCKY-V MAGBANUA
1260 MARTIN, MARIA ZCARINA BAUTISTA
1261 MARTINEZ, JEWEL MAY PANAS
1262 MARTINEZ, TRISHA MAY TEJADA
1263 MARTIREZ, ALLYSSA MAE CARLOY
1264 MASALUNGA, EMILLE JEREMY JARAMILLO
1265 MASANGCAY, CZARINA SHEINA DUNGCA
1266 MASANGKAY, MIKE ACE DALIWAN
1267 MASBANG, PATRICK CARLO BASILIO
1268 MASICAP, JHON KIM NUEVA
1269 MATA, DEIHL JIMUEL GUIAO
1270 MATA, MATT ELEAZAR GUYAMIN
1271 MATIAS, JOHN RYAN CABANOS
1272 MATOS, RINO MEO NUÑEZ
1273 MAULEON, MIGUEL ROBIN PEREZ
1274 MAURICIO, WILMER DAMO
1275 MAYNABAY, JOHN LUIS VILLAVER
1276 MAYNIGO, SARDEL LOPEZ
1277 MEDRANO, JAYDAE LEE VELORIA
1278 MELEGRITO, TIZSHA BELEN CORDOVA
1279 MELLA, MISAEL III ABRAHAM
1280 MENDIOLA, KRIZHIA MEI TANGUNAN
1281 MENDOZA, ALGYLEN SAYO
1282 MENDOZA, ALLYZA CLAIRE TANDINGAN
1283 MENDOZA, FRANCIS DANIEL TABIRAO
1284 MENDOZA, FRANK LOUIE ALOSIMA
1285 MENDOZA, JOYCE PAULINE DE GUZMAN
1286 MENDOZA, MA YZAH DE JESUS
1287 MENDOZA, MARCUS LEMUEL BERNABE
1288 MENESES, MAXINE REBEKAH FERRER
1289 MERCADO, ARIEL GUICO
1290 MERCADO, CRYSTAL JOY CAPATI
1291 MERCADO, DAN RHYAN UAYAN
1292 MERCADO, HAIZEL MAE DUMOL
1293 MERCADO, JOHN KEVIN CARAIG
1294 MERCADO, JONATHAN RAVEN TUNGOL
1295 MERCADO, LOUISE ALFRED LEJARDE
1296 MERCOLITA, MAY MARTINEZ
1297 MESA, ERLYN LENDIO
1298 MESOGA, ERIKA JAYNE GONZALES
1299 MIANO, KENT PAUL JOHN ORAURA
1300 MICULOB, REYMOND NISNISAN
1301 MINA, JOHN DOMINIC GANNABAN
1302 MINA, KIM COLLEEN BARTOLOME
1303 MINGO, DANIEL JAVIER
1304 MIRABUENO, AARON JOHN BAUTISTA
1305 MIRABUENO, AJ LLOYD MINDAROS
1306 MIRALLES, NAOMI CHLOE ESTELLA
1307 MIRANDA, CARLO MIGUEL LOZADA
1308 MIRANDILLA, CLAUDINE LLANZA
1309 MIRAS, GEORGETTE GANDOL
1310 MIRASOL, JYNIE RIO SUA
1311 MISSIONERO, MARCO LYLE JUANITAS
1312 MOGELLO, PACHOLO CALLAO
1313 MOISES, MIZHELLE KOLLETE NARDA
1314 MOJICA, MAR JHON PAULO HERRERA
1315 MOLINA, JUSTIN TIO
1316 MONFERO, MA SHENA PAZ PATRON
1317 MONTANA, NICOLE JOY BINGHOY
1318 MONTEGRANDE, FATIMA CHRISTCHA DAMAYO
1319 MONTENEGRO, JILLIAN CABATO
1320 MONTERO, MIGUEL BERN JINANG
1321 MONTEZOR, PEÑAFRANCIA MAE ABNER
1322 MONTOYA, JARTH LEI REMULTA
1323 MORALES, EMMANUEL JOSEPH ESTOPASE
1324 MORANTE, FRANCIS ALLAN SEGUIN
1325 MORENO, JARRA PADAWAG
1326 MORTELA, SARAH MADINE CRISELDA RIVERA
1327 MORTILLO, JANILLE MATEO
1328 MOSARBAS, JOY MARIE RAMIREZ
1329 MOSCARDON, KRISTIN DAWN LAMOCA
1330 MOSCATILES, JUNE ARIANE MENER ANGELES
1331 MOYA, MAUREEN TUBALINAL
1332 MURALLOS, MARCOS JR SANTOS
1333 MUSNGI, APOLONIO III LAMANILAO
1334 MUÑIZ, MA. JEANNE ELYZA GINGO
1335 MUÑOZ, GERYL NICOLE PABLO
1336 MUÑOZ, MA MORIELLE CAPILI
1337 NABUA, JASMINE REENA PENOLIAR
1338 NACARIO, NICOLE MOLINA
1339 NACIONALES, JAN RUSSEL NARIDA
1340 NALDO, KATE FRIGETTE BASCO
1341 NAMOC, JANINE BALENSOY
1342 NARAL, MARK JOSEPH CAADIANG
1343 NARBAY, MICHAEL ANGELO CABARLES
1344 NARCA, ANDREA NICOLE DE GUZMAN
1345 NARCISO, ALEXIER JOHN AGUSTIN
1346 NATE, KARL MICHAEL BARCENAS
1347 NATIVIDAD, PAULA BIANCA TERRIBLE
1348 NAVARRO, ALDEN ANDRE JOSE
1349 NAVARRO, CECILLE ANN LOTIVIO
1350 NAWE, MERISSA AGUILAR
1351 NAZ, ERIC JOHN NOCILLADO
1352 NEBRES, MELISSA BAJAMUNDI
1353 NERI, ISAIAH ROBERT BALAOING
1354 NERY, JENICA FAYE MEDINA
1355 NESPEROS, JEROME VELORIA
1356 NG, JOHNNY BULINGIT
1357 NGO, FRANCIS MATTHEW ONG
1358 NICDAO, NATHANIEL GONZALES
1359 NIEVA, KEN UY
1360 NILO, CHRISTIAN MIDORO
1361 NOBLEZA, DERRICK ACE CARREON
1362 NOLASCO, ALYSSA BAUN
1363 NOMA, REGINA TANTOY
1364 NOROMOR, GIAN ALVARO JACOB MOSCOSA
1365 NOTADO, MARK ALLEN JOSEPH IGNACIO
1366 NOVAL, KEISHA KHO
1367 NUESTRO, HARIETTE KOLEEN ROCA
1368 NUEVAS, KRISTINNE PRADO
1369 NUNAG, JOSE ANGELO MERCADO
1370 NUÑEZ, CHRISTINE MOAÑA
1371 OBISPADO, JOHN BRAYAN FETIZA
1372 OBLIGADO, CHARMAINE CORTEZ
1373 OBREGON, JOELLIQUE KLENN CLEAVEY URSABIA
1374 OCA, PAUL ARMAN DEL ROSARIO
1375 OCAMPO, EUNICE BORJA
1376 OCIONES, EARL JANN MALMIS
1377 OCLIASO, PIA MARCELA MALIG
1378 OCOMEN, BRYAN VERT DISTOR
1379 OFIANA, JUVELYN PALISOC
1380 OLAIS, JAHNNA PAULINE SANTOS
1381 OLAIVAR, KIMBERLY ANTIMARO
1382 OLARTE, KARLO NARES
1383 OLINIO, APPLE MAE TAGUBA
1384 OLIT, DONNABEL LOU LAFUENTE
1385 OLIVAREZ, FRANCES CYRENE HERRERA
1386 OLIVEROS, NIKKA JANE TAMAYO
1387 OLMEDO, KARL VINCENT VALENZUELA
1388 OLVINA, YNO LORENZO REBUSTILLO
1389 OMAYAN, REENA ZENAIDA CORTES
1390 OMOS, ANTHONY ABAINZA
1391 ONA, PATRICK ELISON MARAVILLA
1392 ONG, ANGELA BELLE SY
1393 OPILAS, NAOMI MAE BENEDICTO
1394 ORAPA, CHRISTIAN ORTEGA
1395 ORDANZA, JANPAUL BAYLON
1396 ORDIZ, CAMYL MAIKA MARASIGAN
1397 OREÑA, ADRIENE KYLE MANALO
1398 ORGE, GEROME EVAN DOCTOR
1399 ORILLOSA, HAZEL FERNANDEZ
1400 ORIOSTE, REYMARL JAMES OLAO
1401 OROPESA, JUAN CARLOS BUSTAMANTE
1402 ORSAL, CARYL CIRERA
1403 ORTALIZ, KRISTINE GAIL ZUNIEGA
1404 ORTEGA, IRIS SHARMAINE MANGROBANG
1405 OSEA, MARIAN ANDREANA PANGINDIAN
1406 OSILA, MARY GISELLE BESMONTE
1407 OSOTEO, BLESCIE FAYE MEDINA
1408 OTERO, JOANNE CATAPANG
1409 OYARDO, TIARA PEPITO
1410 PABELLANO, MARIA ANGELICA ATANACIO
1411 PABUAYA, FELIXES SEAN CAASI
1412 PACHECO, MARIA VICTORIA STO. DOMINGO
1413 PACIFICO, JANNA LEANN PASQUITE
1414 PACQUING, PRITZY ELONA VILLANUEVA
1415 PACUNANA, PRECIOUS YAZMIN MAI BADANGUIO
1416 PADASAS, ALDRIN FRANCISCO
1417 PADEN, JOHN LEO DAGALA
1418 PADILLA, CHRISTIAN RAE SOBREMONTE
1419 PADILLA, HARVEY CALONGE
1420 PADOLINA, ABIGAIL BERNABE
1421 PADUA, ARIEL NAVARRO
1422 PADUA, JEMER CORPUZ
1423 PADUGANAO, GILREM ALENTAJAN
1424 PAGADOR, STEVEN ARMAN ABOROT
1425 PAGAR, RAY ISIDORE VIOLETA
1426 PAGAYON, KING BAGUIORO
1427 PAGUIO, RAY MATTHEW LOPEZ
1428 PAINAGA, JOSHUA PORRAS
1429 PAJEL, MARIA CZARALENE RAMIREZ
1430 PAKINGAN, RYAN KYLE CUNANAN
1431 PALAD, JERICO VON VIVAR
1432 PALARUAN, KRISEL MAE DE MATEO
1433 PALBERAS, RYKA BAUCAS
1434 PALILEO, MIKEE DUMLAO
1435 PALISOC, GABRIEL FRANCIS VINCENT ALBOR
1436 PALIZA, KENNETH ESPARRAGUERA
1437 PALLAYOC, ANDREA DAWAGAN
1438 PALMERA, ABEGAIL ESTRELLA
1439 PALMIANO, KRISHA ANGELOU DE GUZMAN
1440 PALMOS, ANGELO CRUZ
1441 PALQUEZA, JULIUS KRISTIAN YAMBOT
1442 PAMINTUAN, ARMIN PAOLO CRUZ
1443 PAMINTUAN, KAY AR ZABALA
1444 PAMINTUAN, KIVMAR IAN SARMIENTO
1445 PAN, EMMANUEL CARNASA
1446 PANALIGAN, ANGEL GRACE SANTIAGO
1447 PANALIGAN, HAZEL ELLEN MAY ARGENTE
1448 PANGANIBAN, RAY MICHAEL MAINIT
1449 PANGILINAN, JERICO BAUTISTA
1450 PANINGBATAN, DANIEL SUSA
1451 PANTINO, MARYGENE LLANTO
1452 PANTOJA, ANGEL RIVALES
1453 PANTOJA, JIREH LYNNE PERAJA
1454 PARANA, MIXON BAYUCA
1455 PARANGAN, MICHAEL RYAN LOPEZ
1456 PARAS, JAN WENSY PADILLA
1457 PARAS, JERVYLL BAGONDOL
1458 PARDO, CANDY PRECIOUS RAMON
1459 PARIDO, DIVINE GRACE RODILLAS
1460 PARREÑO, EDWARD JOSEPH PINEDA
1461 PARTOZA, KLAIRE VENJIE BUENAOBRA
1462 PARZA, SHERRYMAE ABRIS
1463 PASCUA, JOSHUA BLESARIO
1464 PASCUA, LLOID ELIZER ANICAL
1465 PASCUA, MARCO JAMES TEJADA
1466 PASCUA, REYNALD DELA CRUZ
1467 PASCUAL, ADRONICO III HALOOT
1468 PASIA, GABRIELLE PICA
1469 PASIA, IRISH NABELLE ANNE ROBERTO
1470 PASION, NIERON GOPEZ
1471 PASOQUIN, GRACIELLE DULAY
1472 PASTRANA, ALJON RECTO
1473 PASUMBAL, EVETTE ERNESTINE CABANGON
1474 PATIO, ERICKA DENISE ARMAS
1475 PATRICIO, JOEL MANZANARES
1476 PAULE, MONICA SANTOS
1477 PAULINO, KATRIN MARBELLA
1478 PAUT, HEANEY KAE PILANGA
1479 PAYOPAY, SARAH MAY BERNABE
1480 PAZCOGUIN, ANDREW ORIJOLA
1481 PAÑER, KRYSTLE MAE CALAWIGAN
1482 PECSON, EMMANUEL
1483 PEDERO, KAELA SAMUELLE LAGDAMEO
1484 PEDIDA, EVE WARLYN FAJARDO
1485 PEDRO, SHANIAH PEARL BERNABE
1486 PELAEZ, JAMES SPENCER NAGUM
1487 PELAGIO, RACHEL CHRISTINE JOCSON
1488 PELESCO, MARK JOSHUA BAUYA
1489 PELLORA, ANA ANDREA GERMAN
1490 PENACHOS, SEAN RENH FABRO
1491 PENDOS, KAIRA JANE LOPEZ
1492 PENDOY, JUDY-ANN PILONGO
1493 PERALES, ROEL III OSMEÑA
1494 PERALTA, PRECIOUS QUEEN ONRUBIA
1495 PERCOL, ROGEL MARTIN CABRERA
1496 PEREDA, REICHTOPHEN MORTERO
1497 PEREN, ROSETTE CARANDANG
1498 PEREZ, ARVIN NAZ
1499 PEREZ, FERDINAND RICOMANO
1500 PEREZ, JAMES PHILIP JANOLINO
1501 PEREZ, YRRAL JAIME CANTOR
1502 PERFECTO, PETROLINO PETER MIRANDA
1503 PERLAS, DON OCTOBER ANDI DIEZ
1504 PEÑA, AGOSTO QUESADA
1505 PEÑA, JESTER BRYAN PEÑA
1506 PEÑA, KRISTOFFER EDD MADRIGAL
1507 PEÑARROYO, CHRISTINE JOY VILLARUEL
1508 PEÑAS, YSABELLE PAULA AQUINO
1509 PICARDO, AL ROWIE BUSTILLO
1510 PILAPIL, JOAN JAJE BARDOS
1511 PILIEN, JOHN LOUIS DOCUSIN
1512 PINCA, JOSHUA PRONTON
1513 PINEDA, AQUILINO JR FRONDOZO
1514 PINEDA, BEATRIZ NICOLE DIZON
1515 PINEDA, JEMWHELL RAMOS
1516 PINEDA, PERCY BRIAN DIOMAN
1517 PINEDA, SHAIRA CELAJES
1518 PINGOY, JANICE DELA TORRE
1519 PINLAC, LADY COLLEEN BUHAIN
1520 PINLAC, WISCON OBENARIO
1521 PIOLINO, PAULO CABRERA
1522 PIRA, REGINE KAYLE BUENCONSEJO
1523 PIZARRO, JASMINE DIAO
1524 PLACIDO, MARY JOYCE MARAVILES
1525 PLATA, KRISTINE KAY MORTEL
1526 POLANCOS, CELESTE JOY FERRER
1527 POLICARPIO, ERIN JOSHUA ONGAYO
1528 PONDALIS, MA. ELLA JINTALAN
1529 PONFERRADA, MARTHA LOUISE CHU
1530 PORNELOS, MARIONNE CHARISSE EULIN
1531 POSADAS, KIARRA ANNE MALIWAT
1532 POSTOR, RENZ JOHN MONSALUD
1533 PRADO, WYNANT MIKE MAMING
1534 PRESTADO, MYLENE ROMERO
1535 PRING, ROSEANE MIGUEL
1536 PROCHINA, LEXI ELAINE PARDO
1537 PROFITANA, BEATRICE BANAWA
1538 PROTACIO, DONALD REX RASCO
1539 PUA, ELICE ENDREA MARIE DELOS SANTOS
1540 PUBLICO, BIANCA NATIVIDAD
1541 PUERTO, NESTOR JR ESTREL
1542 PUEYO, ROSELLE TORMON
1543 PURIFICACION, EZRA JEREMIAH JURIDICO
1544 PUROC, MAR VALDEZ SUDA
1545 QUEBIDO, JASMIN JANE ALPAS
1546 QUEBRAL, DAN LLOYD LUCAS
1547 QUENDANGAN, MELVIN ACORDA
1548 QUERRI, DEAN JOSHUA
1549 QUEZADA, RHEIANE PEARL JULAKIT
1550 QUIAMBAO, ARIADNA PATRISE CASTELO
1551 QUIAMBAO, BENESSA ROSE ALCEDO
1552 QUIAPOS, NEIL BANGATE
1553 QUILANG, MARIO JR CAGURANGAN
1554 QUILAY, JOEFFREY GACULA
1555 QUILBIO, KARLOS ANTHONY PACIENTE
1556 QUILINGUEN, MYRANEIL MUYANO
1557 QUINAO, VINCENT JOSEPH ESCLIBANO
1558 QUINDARA, RIO ANNIEKA ALYSSA GABRIEL
1559 QUINIT, KYLE BABYLYN BUYAWE
1560 QUINTINITA, JEROME CASTILLO
1561 QUINTO, PATRICIA MAY CLEMENTE
1562 QUINTOS, RICHARD RANCES
1563 QUITAZOL, KENNEDY DULDULAO
1564 QUIWA, VONNE ANDREI ALVENDIA
1565 QUIZZAGAN, RICHARD CABISON
1566 QUODALA, PRECIOUS KIM CARLET
1567 RABANG, CHROLINE GABRIEL
1568 RABANO, THERESA LORENZ GARCIA
1569 RABANOZ, JEANNARD BREN RUALES
1570 RABE, KENN NELSON BANDALAN
1571 RABENA, BLAIR PAUL ILDEFONSO
1572 RACCA, JOSHUA EMMANUEL RAMOS
1573 RACELIS, JULIENE LORNA RAÑESES
1574 RACRAQUIN, FATIMA MAE AQUINO
1575 RAMAYAN, MARJORIE HUGO
1576 RAMIREZ, CHARLYN DE LUNA
1577 RAMIREZ, IVAN DAN CHESTER ANTONIO
1578 RAMIREZ, KAYE JANINA ELLOREN
1579 RAMIREZ, LYRE ANGELA PASCUA
1580 RAMOS, ASHLEY DOMINGO
1581 RAMOS, CHARLES ERICKSON DIETHER ONA
1582 RAMOS, MARIAH CELINA MEDINA
1583 RAMOS, SEAN MICHAEL CASTOR
1584 RAMOS, STEPHANIE DOMINGO
1585 RAS, JANELLA LEI OSMA
1586 RAVANCHO, BRIAN MARK SADILI
1587 RAYMUNDO, AEIRA MARINELA SANTIAGO
1588 RAYMUNDO, GLEO JOHN RENZ MANDIGMA
1589 RAYO, MIGUEL CARLO ALEJANDRINO
1590 RAYOS, JOSELITO CRISOSTOMO
1591 RAZO, HARVY VELEÑA
1592 REALO, JESSICA NAIZA BUENA
1593 REBOSURA, GILMAR BADE
1594 REBUJIO, ERIC MART CRISTOBAL
1595 RED, RALPH JAMES OLEA
1596 REDUCA, EDSON CALIMLIM
1597 REFUGIO, KELSEY AVA CHUA
1598 REGALADO, RENAN MOLATO
1599 REGENCIA, ANGELICA PORTIA FORBES
1600 REGINIO, JOANNE SANTIAGO
1601 REGONDOLA, ALVIN RACINES
1602 REILLO, ERICA VANESSA SUVA
1603 RELADO, FRANCIS GRANT
1604 REMIGIO, GERALD CONFESOR
1605 REMULLA, JESSICA CUEVAS
1606 RENIGEN, SARAH MAE EPISCOPE
1607 REORIZO, MARICOR ALAVERA
1608 RESUELLO, JANN ROYCE MARY GARCIA
1609 RETIALO, SHAIRA MAE RAPACON
1610 REYES, AUGUSTUS JOSEPH ILANO
1611 REYES, FRANCES VENICE ANGELES
1612 REYES, JEAN ALFRED MA RAMOS
1613 REYES, JONA BELLE LOBO
1614 REYES, KEANNU CARIÑO
1615 REYES, LUCITO RAFAEL ALEJO
1616 REYES, MARIA AMIHAN RAMOS
1617 REYES, MARK KELLY GARCIA
1618 REYES, MARK LOUIE SUGANOB
1619 REYES, MARVIN COMPETENTE
1620 REYES, MARY GABRIELLE MINAY
1621 REYES, MITZI KAYE ZIPAGAN
1622 REYMAN, NICOLE IASHIN FAGARAGAN
1623 REYNADO, KIRT OMOSO
1624 REYNO, SONNY AGUSTIN
1625 RIAS, MARIEL MEI YSON
1626 RICAFRENTE, ELMER DE RAMOS
1627 RICARDO, DARRYL HANS DUMLAO
1628 RICARSE, JEAN RANDELLE REYES
1629 RIEGO, JESSICA KIM ESCOBAR
1630 RIGO, JONNA
1631 RIGUER, CHRISTIAN ABELGAS
1632 RINGOR, KATHLEEN KATE AGBALLOG
1633 RIOS, THEA ROSE MAXIMO
1634 RIPAS, TRISHA REFRAN
1635 RIVAS, JEFFERSON TUTANIA
1636 RIVERA, ANA MELISSA DELOS REYES
1637 RIVERA, BRYAN NEL TRINIDAD
1638 RIVERA, CELINE THERESE ESCAMA
1639 RIVERA, MAICOH SALAS
1640 RIVERA, MARY LYN HIDALGO
1641 RIVERO, BEA KATHLEEN NAVA
1642 RIVERO, ERIKA MARIEL BOMBASE
1643 RIZON, JASPER ALCEBAR
1644 RIZON, MAYGAN MACAPAZ
1645 ROBILLOS, JAN-GEL JAGE DUQUE
1646 ROBLES, RUFFA MAE
1647 ROCAFOR, MARK KRISTIAN SAN GABRIEL
1648 RODRIGUEZ, CYRA ALEXANDRA MILANES
1649 RODRIGUEZ, MAEDENNE EVE REMPILLO
1650 RODULFO, JEAN PIERRE CHRISTIANE ACEBUQUE
1651 ROJAS, SAMANTHA GAIL FULAY
1652 ROLDAN, GERARD DOMINIC JALANDONI
1653 ROMERO, ERVIN CHARLES HERRERO
1654 ROMO, IVY GRACE JABILLO
1655 ROMUGA, VERA PHILINA MAGNO
1656 RONQUILLO, MARTIN NICHOL DIZON
1657 ROSAL, SYLVESTER FLAVIER
1658 ROSALES, PATRICK NIÑO BACANGGOY
1659 ROSERO, ARTURO JR VEGA
1660 ROXAS, CYRILLE JOSHUA DIMALIWAT
1661 ROXAS, IAN JENO TENGCO
1662 ROXAS, RAYA ANN TOLEDO
1663 RUBICO, OEN XYRELL IGLESIAS
1664 RUBIDO, MARIMAR JUANILLO
1665 RUBRICA, MITZI SABAS
1666 RUSIANA, MARY ROSE
1667 SABADO, ANGELICA PARANGUE
1668 SABADO, TYRONE JOHN TRIA
1669 SABARE, JOEMARIE JR PESCADERA
1670 SABARILLO, RAM CEDRICK TAHUMON
1671 SABILLANO, KATHLEEN BETH QUERO
1672 SABIO, JAEL DE VERA
1673 SADANG, NIGEL MANALO
1674 SAIDUL, SHAINA TINDICK
1675 SAKARAN, NURUN-NIHAR IBBA
1676 SALAC, JYRHELLE LAYE CASTAÑARES
1677 SALAZAR, JESUS ANTONINO CRUZ
1678 SALAZAR, SHANNINE MILLANO
1679 SALCEDO, RAYMART MAAGAD
1680 SALDEVAR, CHRISTIAN PAUL
1681 SALDIVAR, JAIRISH TRINIDAD
1682 SALES, GIEZEL JANN ALAFRIZ
1683 SALGADO, EXCEL MARIE NINOY
1684 SALINAS, FRIDAYTEN APRIL BENIAL
1685 SALISE, MIRZI KRISTINE CALIS
1686 SALLAO, KRISLYN MAE PINERA
1687 SALONGA, PAMELA CASTRO
1688 SALVADOR, DESSICA MARIE PAULO
1689 SALVADOR, JOHN ALLEN MUÑOZ
1690 SAMSON, CLARK KEN SALANGSANG
1691 SAMSON, DADAJEM CASERIA
1692 SAN DIEGO, BEVERLY PEARL ELICANO
1693 SAN LUIS, CHRISTIAN COMATCAT
1694 SANCHEZ, ALEX JR ANOR
1695 SANCHEZ, GODOFREDO IV CANDELAZA
1696 SANCHEZ, JANA MICHAELLA RAMOS
1697 SANCHEZ, JOHN HENRY BAUN
1698 SANDOVAL, MARION NIGEL HERNANDEZ
1699 SANDOVAL, MARK JOHN CAJUCOM
1700 SANJORJO, FRANCES ALEXANDRA DE LEON
1701 SANJORJO, LIAZEL REALSE
1702 SANTA ISABEL, DANICA PETALIO
1703 SANTIAGO, EHDWARD DELA ROSA
1704 SANTIAGO, EZRA CIARA VALDEZ
1705 SANTIAGO, KATE ERGUIZA
1706 SANTIAGO, MARY JEANE PAULINE BONAFE
1707 SANTIAGO, TRISHIA SERAPION
1708 SANTILLAN, JEROME FORMENTO
1709 SANTILLAN, PRINCE IRREL TURBANOS
1710 SANTOLLANO, LOUISSE SECUBAN
1711 SANTOS, ADAM SACDALAN
1712 SANTOS, CARL ANGELO POBLETE
1713 SANTOS, KIM MATEA ROLDAN
1714 SANTOS, MARIA SHAIRA ZAUSA
1715 SARCO, EDWARD DIMAUNAHAN
1716 SARIEGO, SHEILA MAE CENIZA
1717 SARTIN, CHRISTOPHER IAN PELAYO
1718 SATO, AYA SANTOS
1719 SAVELLA, SHALDAN EIMOND NARVAEZ
1720 SAYCO, SALVADOR AJERO
1721 SEBASTIAN, SARNDRA ROSE CRUZ
1722 SEBIAL, SHENNAH MAE LAPINIG
1723 SEE, WILSON YAP
1724 SEGUERRA, KEZIAH MICAH ABAJA
1725 SEMENSE, KHEZEL ANNE REGIDOR
1726 SEMEÑA, SHERYL ANN JIMENEZ
1727 SENDICO, ERICK JOHN BIÑAS
1728 SERGIO, JOHN RALFH TAWAG
1729 SERILLA, RANJOYCE JOERAN PACARDO
1730 SERILO, NATHALIE SIMORA
1731 SERRAN, LEAN ANDRE MENDOZA
1732 SERRANO, EMERY MAY MENDOZA
1733 SERRANO, LAURENZ JOE CELESTINO
1734 SERRANO, LEA MAE ROSALES
1735 SEÑOR, CHRISTINE JOYCE CABUNILAS
1736 SHENG, MARK EDRIANE TOE
1737 SIBAYAN, EDISON SANCHEZ
1738 SIBUG, CHRISTIAN JOSHUA
1739 SICALAN, LEEN DENISE DONATO
1740 SICAT, MARIELLE MANALANG
1741 SIGUENZA, MAI LOVELY DE LIMA
1742 SILVA, JAIME NORBERTO MAGDARAOG
1743 SILVINO, SHIENA MAE CASIPE
1744 SIMBULAN, ROEY PASCUAL
1745 SIMEON, SHELLA MAE MALAZA
1746 SIMINIANO, JEZRYLL MERCIE GODOY
1747 SIMPAO, JOVEN TOMEDO
1748 SINGIAN, JOSHUA BAYTIONG
1749 SINGSON, CHEEN SILVANO
1750 SINIO, LEIRA LYN GAYNILO
1751 SIODORA, FLORI FE PACSON
1752 SIONSON, ERICKA JERSEY TOLENTINO
1753 SISON, BERNADETTE PADAWAN
1754 SITOY, JOHN ELVIN SERRANO
1755 SIUAGAN, DIESABELLE LORENZANA
1756 SO, ANGELLE MACRINE GARRIDO
1757 SOBREVILLA, JOSE III CABUDOC
1758 SOLEDAD, RICO JAN CANCILLER
1759 SOLIMAN, LORELIE APOSTOL
1760 SOLIS, KIARA JAEL REYES
1761 SOMERA, CRISTINA DEL ROSARIO
1762 SONIDO, VON ZJALETTE SOTERIO
1763 SONZA, ANGELO AGUILAR
1764 SOQUITA, JAY-R MASULA
1765 SORIANO, JERICHO KYLE OROZCO
1766 SORIANO, RACHEL AGCAOILI
1767 SORIANO, RALPH CHRISTIAN PINOTE
1768 SORIANO, WILFREDO JR DEIPARINE
1769 SOTTO, DERICK RAY BUAN
1770 SOTTO, MARYELLE JOYCE RETORTA
1771 SUAZO, KEITH PHILLIP CARBONILLA
1772 SUBINGSUBING, KHYLE JOHNNEIL AMORANTO
1773 SUICO, MA JYNNISSA GARCIA
1774 SULIT, RHEY JOHN MERCADO
1775 SUMICAD, KEIZA SAYSON
1776 SUNGA, MARIA BETINA MIJARES
1777 SUNGA, NATHANIEL PEREZ
1778 SUPAN, RETCHELLE ANN GALANG
1779 SURILLA, JOSEPH ALLAN TABURNAL
1780 SURLA, MARK CHRISTOPHER QUIAMBAO
1781 SY, ALEJANDRO ZARAGOZA
1782 SY, DARYL ANNE CLAIRE SIA PUA
1783 SY, MERRY ROSE ANTONIETTE CASIMERO
1784 SY, MIKAELA JOAN TAN
1785 TABAREJO, CRISANTA JENIFER CABUNTOCAN
1786 TABINAS, KENNU CANDIDO
1787 TABLON, ELWYNNE MAE LIMSON
1788 TABORA, KORAINE FRANCZESCA MONTIERRO
1789 TABUGA, AIDA LUCILA MARIE MIRANDA
1790 TABUZO, MAXINE ZEDRIC MAYORES
1791 TACATA, RESTY REY ACIDO
1792 TADEO, CHRISTIAN PAUL BABIDA
1793 TADEO, MA. CHREMA CABATIC
1794 TAGAC, BOB LESTER CAVERTE
1795 TAGALOG, HAROLYN CALAQUE
1796 TAGAMI, LEABEL MAY PUMARAS
1797 TAGAYOM, MIKE ANGELO BAUTISTA
1798 TAKAHASHI, MAITO ROQUE
1799 TALANA, MARIMAR ADORNA
1800 TALDE, CRISTO KARL CUEVAS
1801 TALDE, RONAN MAYORES
1802 TALENTO, PRINCESS ROLYN REMOROZA
1803 TALIP, MA. GRETA ANDREA NEGROS
1804 TALLEDO, ARIEL BINGHAY
1805 TAMAYO, ZYRENE HAYNES DUMENDEN
1806 TAMAÑO, KRISTINA JALIQUE
1807 TAN, KRISTAL ASTUDILLO
1808 TAN, LAURENCE DWAYNE ECHAVEZ
1809 TAN, RACHEL GRACE ROLLO
1810 TAN-AWON, JOHANNA MARIE RETIZO
1811 TANALGO, MARTIN NICOLAS PERMA
1812 TANATE, RONSTAR MOLINA
1813 TANDOC, ALISON KISHA LOURIEL MAABA
1814 TANDOC, SENJEAN IRA MAABA
1815 TANGCUECO, VANCE GALVIN TIU
1816 TANGLAO, REUBEN SORIANO
1817 TANGONAN, CHRISTIAN MIKE BONGALON
1818 TAPANG, EVANGELINE GUEVARRA
1819 TAPANGCO, JAMES ROBERT GERARDO
1820 TAPAR, JAIME JR TUMAQUE
1821 TAPEL, JANEDELIA TORRANO
1822 TAPIA, MARINELA RODRIGUEZ
1823 TAPIRE, VINCE MARI GABRIEL BARRETTO
1824 TAROL, RICA NORIELLE LEABRES
1825 TAWAGON, MAILY OFIAZA
1826 TAWING, BEANKA MAE VARGAS
1827 TAÑO, BIANCA ISABELLA DUPLITO
1828 TEJADA, KEM JAY NAGTALON
1829 TEJERO, MARY CATHERINE GABAYAN
1830 TENGCO, JUSTIN AL JUAN
1831 TENGONCIANG, NEILYN SANTIAGO
1832 TENIO, JAED LOUISE NACALABAN
1833 TENTATIVA, JHAMES MICHAEL NASORRADA
1834 TEOXON, MICHAEL ANGELO LAJARA
1835 TEPORA, IVAN RAY ORCULLO
1836 TERNE, KEITH CLARENZ MENDIOLA
1837 TERNEO, MARK ANTHONY BUDLAO
1838 TERRIBLE, CHRISTINE JOY OMAMBAC
1839 TIBUS, EUDEL ALLEN QUINES
1840 TICAG, ROSELYN CLAIRE CALINES
1841 TICAO, JOSHUA WUTHRICH
1842 TIGLAO, KATLHYN MAOMAY
1843 TIJING, LOUIS NICCOLI TAN
1844 TILENDO, MIA FATMA IBRAHIM
1845 TIMBANCAYA, SHERNEL ACUÑA
1846 TINGOSIA, MARC LOUIE DEMELINO
1847 TOBIAS, IVY BALBIN
1848 TOKCHO, MARICHRIS MACLI-ING
1849 TOLEDO, ARNOLD ADRIAN LAPORE
1850 TOLEDO, RUBY DIANE ALFARO
1851 TOLENTINO, DANIEL RAMOS
1852 TOLENTINO, GABRIEL BERNARDO
1853 TOLENTINO, ISHMAIL ANGELES
1854 TOLENTINO, KENNETH BONDOC
1855 TOLENTINO, MARCK JAY LOVERIA
1856 TOLOZA, LAURENCE SARMIENTO
1857 TOMAS, PAULINE LOUISE MANUEL
1858 TONGCO, ALAINE AIRA MADRID
1859 TONO, QUEEM CIRIACO
1860 TOREJAS, ALDRIAN MARK BUDINO
1861 TORIANO, ENTHON
1862 TORRALBA, DIANNE PAULA LAWAG
1863 TORRE DE LA, ROCHELLE BERNALDEZ
1864 TORRES, GILBERT SANTIAGO
1865 TORRES, HANNAH DIANE FRANCIA
1866 TORRES, JUZTIN DOMINIC RIOFRIO
1867 TORRES, MARCO ANGELO LATOJA
1868 TORRES, NIMFA PELAEZ
1869 TORREVILLAS, SHEINA MAE BAUTISTA
1870 TOTAAN, JOSE LOUIE IGARTA
1871 TRASMER, LARA MAE GEPIGA
1872 TRINIDAD, JEAN PAULA ARELLANO
1873 TROCIO, ROMIE DEL SOCORRO
1874 TUASON, CARMELA DANGILAN
1875 TUBAC, MARK JOSEPH AGOOT
1876 TUBALLAS, ANGELINE DOMINGUEZ
1877 TUBORO, ELUIM TULALIAN
1878 TUGAS, NADINE VICTORIA ALCANTARA
1879 TULIAO, MELVIN ABARCA
1880 TUMPALAN, JOHN KENNETH BERNABE
1881 TUPAS, DENNIS SHADWEN SULTAN
1882 TUPAS, MICAH DENISE BARICUATRO
1883 TURALBA, FAITH TAGUBAN
1884 TURIANO, MARIANNE CRESENCIO
1885 TURRALBA, ANGEL LYN CAMO
1886 TY, MARY JANE BREVA
1887 UBIÑA, EARL EZEKIEL BINAYUG
1888 UKO, BAINOR LIDASAN
1889 ULANGKAYA, CARRISSA KHIM TONGOL
1890 ULIP, RHEA JANE ARGUELLES
1891 UMALI, VERONICA ELMUNDO
1892 URBANO, FRANCES DIANE TUMALAD
1893 URBINO, JOHN VINCENT GOMEZ
1894 URETA, JED ANJO LELIS
1895 URSUDAN, EFREN JR BESIN
1896 USITA, JEM ZAMUEL ALVERSADO
1897 UY, DEON NOVY YAP
1898 UY, JAMES CHARLES ANTONIO
1899 UY, RAPHAELLE IAN TAN
1900 VALDEZ, ALLIEZA JANE MALUBAY
1901 VALDEZ, CIEROVINE KHATE BURTON
1902 VALDEZ, MARK CHRISTIAN BITES
1903 VALENCIA, CHITO ORE
1904 VALENZUELA, DAN-ALDRIN PABLO
1905 VALENZUELA, FAITH DE GUZMAN
1906 VALENZUELA, JEZZLY RENZ JUAN
1907 VALENZUELA, RIEZ DANELL RAMIRO
1908 VALIENTES, ZGERLYN BUENAVISTA
1909 VALINO, JOHN PATRICK SANTOS
1910 VALLENTE, MATTHEW JONATHAN MORALES
1911 VARANAL, JHOEMEL SOCORRO
1912 VARDELEON, CHARILLENE CABRERA
1913 VARELA, BRIGETTE ANN DUEÑAS
1914 VARGAS, JOYCE-ANN COLINARES
1915 VEGA, BEATRIZ LUNA
1916 VELARDE, FRENZY SHAIRA MARCAIDA
1917 VELASCO, ANGELITO JR TADEO
1918 VELITA, BOBBY ALVIN VILLARIAZA
1919 VENTINILLA, PRECIOUS DELFIN
1920 VENTURA, INA BEVERLY GABIA
1921 VERBA, JUDITH VERMA MARCO
1922 VERGARA, ANDREA GLADYS MARTINEZ
1923 VERGARA, NORMAN MARK CHESTER NOCOM
1924 VERGARA, VANZ FARRIZZE LIM
1925 VICENTE, ARLENE JOY MAGNO
1926 VIDUYA, REB IGAN VILLEGAS
1927 VILIRAN, SEAN LOUISSE LANORIAS
1928 VILLACORTE, DANICAH MAÑO
1929 VILLAFLORES, RAYA ALEXANDRA MATEMATICO
1930 VILLAFUERTE, PREXLORD ELEYDO
1931 VILLAJOS, JESSABEL ALO
1932 VILLAMAYOR, FLORENZ GIO TAGUIAM
1933 VILLAMOR, JO NICOLE GARCIA
1934 VILLANUEVA, DARIUS ALLEN DE VERA
1935 VILLANUEVA, JAD KENDALL OBINQUE
1936 VILLANUEVA, MA. ALYZA LINELLE LARA
1937 VILLANUEVA, ROXANNE CAMILLE PATIAG
1938 VILLANUEVA, SABILYN REYES
1939 VILLAR, CHARLLOTE VALEN TABAL
1940 VILLARDO, KHRISTINE MAY ESPANOLA
1941 VILLAREAL, TRIXIE SARAH AMADEO
1942 VILLARIAS, JIEV DENVER IYOG
1943 VILLARIZA, YZA-YVONNE TONEL
1944 VILLARUEL, JUSTINE NICOLE PALLADA
1945 VILLEGAS, CHARMAINE ANNE SISON
1946 VILLEGAS, PATRICIA MAE CASTELO
1947 VILLELA, ZOE JIL ROSEMA
1948 VILORIA, MARCO LOZA
1949 VIOVICENTE, KENNETH DIEZ
1950 VIRTUCIO, PATRICIA GRACE LIGGAYU
1951 VITAL, KYLE TRISTAN DE GUZMAN
1952 WAGTINGAN, AMELITA PECLEY
1953 WALIN, TERAZA LEE TABTAB
1954 WALLANG, IANNE ROSE CRAMILLE PATA-AG
1955 YALONG, FRANCES ALYANA HUSOL
1956 YAP, CAMILLE JEANNE HERNANDEZ
1957 YAZON, ROBERT CHRISTIAN VICEDO
1958 YBAÑEZ, JUSTYN CHRISTIAN MANUEL
1959 YGAY, GALILEO JR INOT
1960 YNGAYO, DHONA TUSAY
1961 YOGAWIN, DANIELLE ANN STA CATALINA
1962 YORO, IVANA KATE DOBLAS
1963 YOSA, MARIA CELINA LAZAGA
1964 YU, JOSE PIO ESPERANZA
1965 YUMOL, JAMILA LEIGH MANALO
1966 YUSI, DIANA ANGELINE BOLUSAN
1967 YUSOP, MOHAMMAD SHAH SARIHASAN
1968 YUSOPH, MOHAMAD AMELKHAN MACUD
1969 ZACARIAS, KURK POLONGASA
1970 ZACARIAS, ORLANDO JR DELEON
1971 ZACARIAS, TRISHA MAE SAMSON
1972 ZAFE, ANGELICA CHARISSE RODRIGUEZ
1973 ZALDIVAR, RAFAEL RODRIGO BAUTISTA
1974 ZAMORANOS, CHRIZELLE SABADO
1975 ZAPANTA, NATHALIE JOIE DEL ROSARIO
1976 ZAPATOS, MA JOSEPHINE
1977 ZARSOSA, ZYRONE GILLES
1978 ZUELA, MIKAELA VALERIO
1979 ZULUETA, KEEN FRANCA ALDAVE
1980 ZUÑIGA, JERZY CLAIRE VIDAL
Source: prc.gov.ph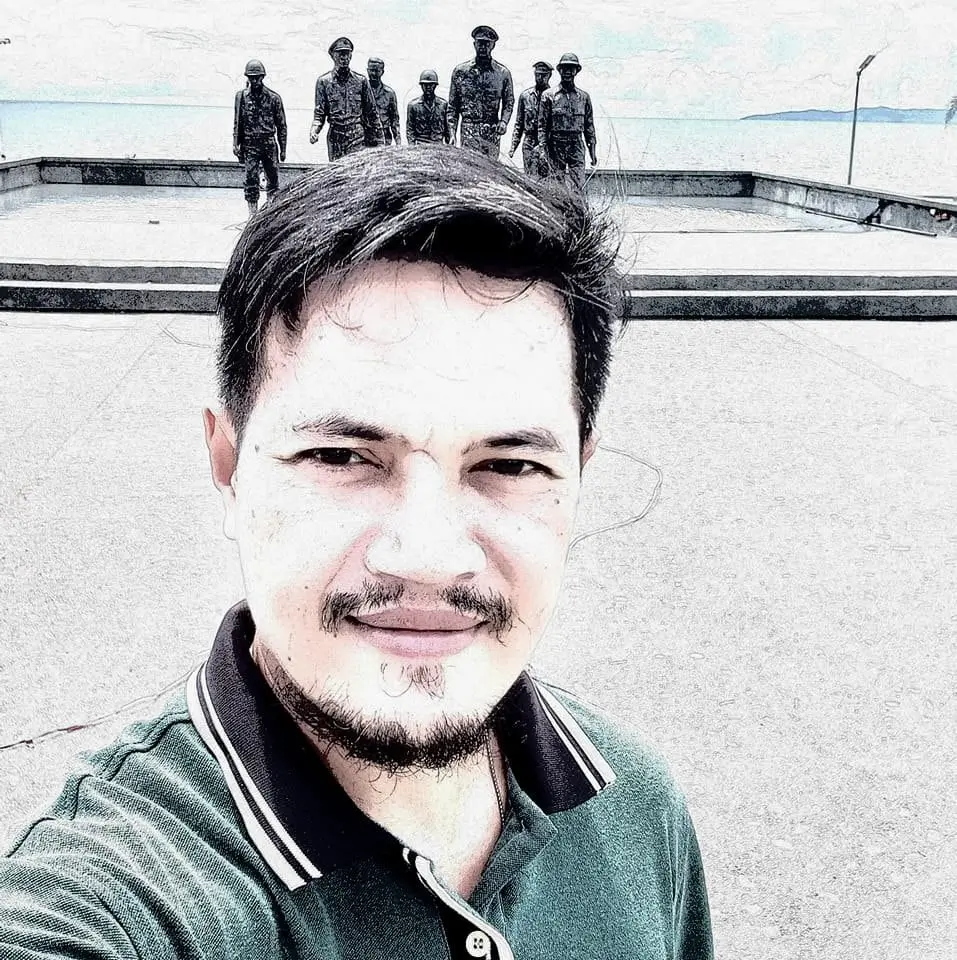 Regel Javines, at present, is working on his M.A. in Philosophy at the University of San Carlos attempting to understand life and existence through the lens of gnostic spirituality and ontological mathematics. He has been writing since 2011 publishing news, commentary, and opinion about politics, law, and various pressing social issues of interest. More >>