Big Tech censorship is more than outright killing the competition. It is humiliation in the highest possible extent; avarice beyond compare and indubitably communism.
Amazon, Apple, Facebook, Google, and Twitter are exactly no courts of the United States of America to wield censorship against those that they don't just like, perhaps—not less than the legitimate President of the United States of America Donald J. Trump.
Big Tech Censorship: Callous Plutocracy
But it isn't only about what is in the name of Donald Trump or what this President knows about after all. But also, it is about the First Amendment that the United States Supreme Court has repeatedly ruled that even hate speech is free speech—legally protected under the First Amendment. These horrendous Big Tech firms aren't innocent at all about it.
Snyder v. Phelps (2011), R.A.V. v. City of St. Paul (1992), National Socialist Party v. Skokie (1977), Terminiello v. Chicago (1949), Brandenburg v. Ohio (1969), name it, censorship has no room under the First Amendment. Lest democracy would be reduced to plutocracy.
These Big Tech firms are wrongly acting as gods of the United States. As if they are laws of no bounds, of no gods to bow down; or of no other vested interest but their organizational stake consistent with a cabal open-secret plan to subdue the world through communism.
Their decisive, synchronized actions to censor the freedom-loving Americans may be boldly echoing what they have been undoubtedly serving for the longest time possible. We may be hoodwinked. You may be robbed.
Social Media Giants: Stinking Miasma of Hypocrisy
Facebook CEO Mark Zuckerberg on his account declares President Donald Trump's continued use of service as "too great a risk". The giant social media platform suspends "indefinitely" the President's account. Is that evenly worth censoring?
Facebook's censorship against President Trump is already tantamount to a violation of the First Amendment. Not only that, Facebook is acting as if the authoritative arbiter of what is "too great a risk" for all Americans and the world. Isn't that so communist?
Twitter. So ridiculous as it may seem that Twitter permanently blocked President Trump's account. While in all but despair and fornication, Twitter is infested with pornographic accounts and detailed sexual intercourse of folks that some of us here might enjoy most. Isn't that "too great a risk" for the moral degradation of Twitter and its netizens? Why Twitter doesn't bother to regulate it or permanently block those jarring accounts of fornication and pornography? Is Twitter enjoying binge-watching it? How odd.
Parler Under Siege Is First Amendment Under Attack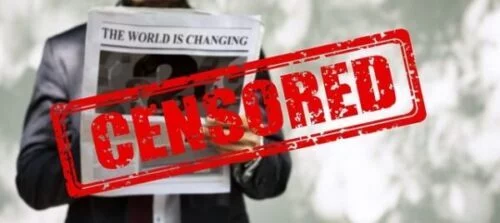 Apple and Google suspend Parler from their app stores—another Big Tech censorship that caused damage to American democracy.
Parler is a free speech microblogging platform with over 4 million active users as of November 2020. Reportedly, millions of President Trump supporters all over the globe have been switching to Parler after experiencing Facebook censorship. What the hell these companies are thinking?
These companies think of themselves or behave themselves rather as the guardians of the laws. These companies are repressing some other Americans and millions around the world from enjoying the free speech social network platform that Parler stands for. Isn't that more than killing the competition while slashing a part of democracy?
A blow of the Big Tech censorship in America continues incessantly and this time so harsh and profoundly evil when Amazon moved to suspend Parler from its web hosting service before Monday midnight Pacific time.
This will make Parler off-air. Free speech is under attack. And it is resoundingly odd that Big Tech spearheaded it and in the callous forefront to impair, cripple, immobilize or wipe out the free speech right guaranteed under the First Amendment.
Yet, mainstream media instead of condemning the Big Tech censorship against the American democracy, they rather poised to report it as if they enjoyed watching communism intruding the very gate of the US democracy.
It is happening now in the United States. When we do nothing, later or tomorrow it will be here. At that time, our unity in a patriotic action against plutocracy and communism would render us helpless. ▲
Philippine Pundit is a borderless citizen journalism platform. It is owned and managed by Regel Javines. Join us and help the world be better informed with factual news and no-holds-barred commentaries about politics, law, and various social issues of interest. Submit your article today and get it published!